Contents:
1. Welcome Back
2. Understanding cancellation insurance
3. Lindsey named ATAE Executive Director
4. Upcoming Meetings and Events
5. Boston
6. Charlotte
7. Sacramento
8. Seattle
9. Miami
10. Phoenix
11. Austin
12. Credits/Contacts
13. Show Directory
---
Welcome back
"Voice of auto shows" begins second year of publication
With this edition - Volume Two, Issue One - "The Auto Show Report" begins its second year of publication. The only newsletter dedicated to covering each of the 65 auto shows in North America, "The Auto Show Report" is published by Auto Shows of North America (ASNA), a committee of the Automotive Trade Association Executives (ATAE). The ATAE is a national organization representing executives of state and metro automobile dealer associations.
In its short but productive existence, ASNA has helped connect leadership from North American auto shows so that they may learn from each other, share ideas, and improve relationships with other audiences, says Todd Leutheuser, ASNA member and co-executive director of the California International Auto Show.
"The ASNA committee filled a void in our industry by providing a clearinghouse of information that can be shared among all auto shows," says Leutheuser. "Through our newsletter, frequent electronic surveys, as well as off-season meetings and retreats ASNA provides a communications network that links show directors together with each other, as well as others who play an important role in the success of auto shows, such as manufacturers, exhibit houses, design studios and automotive media."
"One of our most important objectives has been to help connect shows with manufacturers, media, exhibit houses and vendors," says Leutheuser. "There are many shows that don't have the critical access to these audiences, and that's where ASNA can really be of assistance."
Beginning in 2004, "The Auto Show Report" features a more interactive format for readers than last year's newsletter.
"We want to maintain our position as the 'voice of auto shows,'" says Joe Rohatynski, an auto show veteran and public relations specialist, who returns as editor of "The Auto Show Report." The upgrades and improvements to the 2004 newsletter will help us to ensure that. "
Joe Rohatynski can be reached with story ideas or industry commentary at 313.378.6570 or Joe@JoePR.com.


---
Understanding cancellation insurance
Insurance underwriters who may not fully understand the coverage needed are more likely to charge more - one possible reason auto show organizers throughout the country are faced with soaring costs.
That's the assessment of one national broker, Palmer & Cay, which was recently contracted by the Detroit Auto Dealers Association and its North American International Auto Show (NAIAS). The broker arranged for both cancellation insurance and liability coverage when NAIAS LLC, the organization within the DADA, was faced with cancellation premiums that were five times the previous year.
Jim Purchase, client executive in Palmer & Cay's Detroit office, says it's important for a broker to understand what is needed, but even more importantly - get the underwriter to understand.
"As far as cancellation insurance, the rates are pretty standard across the board," says Purchase. "The question is, what are you comparing those rates to as far as the specific event being covered. Does the broker understand the auto show and how it generates revenue? That's one important way to keep the rates in line and reasonable."
Kevin Youngs, also at Palmer & Cay, says that for cancellation insurance (which might typically cover a show against a loss of revenue), putting the right number on the insurance application is a critical point that can go awry.
"It's relatively easy to overpay for coverage that doesn't reflect how the revenue streams actually operate," says Youngs, who also works on the NAIAS account. He characterized the previous quotes presented to the Detroit show as "astronomical."
"We went back to the underwriting community and found the appropriate coverage for what was needed was actually 40 to 50 percent below what they were presented before, plus we were able to secure a substantial improvement in the scope of coverage."
Rod Alberts, chairman of Auto Shows of North America and executive director of the NAIAS, says he's been asked by the ASNA committee to investigate the possibility of group coverage for cancellation and liability insurance. One of the brokers he expects to contact is Palmer & Cay.
"The issue of rising insurance costs is a volatile one that has many show directors concerned," says Alberts. "The ASNA committee has launched a research initiative and will be prepared to report its progress, and possibly make some recommendations, at the ATAE meeting at NADA later this month."
In the meantime, Seattle International Auto Show executive director Jim Hammond has two bits of advice to his fellow organizers when it comes to cancellation insurance: Buy. And buy early.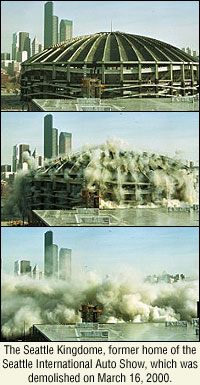 Hammond speaks from the cold, hard world of experience and the perspective of having failed to done both. Remember the roof tiles falling from the now defunct Seattle Kingdome? Hammond does. The year was 1994 and the roof problems forced the covered venue, then home to the Seattle show, to close for repairs.
Then disaster struck - two repair workers fell to their deaths and the facility was shuttered while an investigation continued. With the city unwilling to guarantee a reopening before the Seattle show in November, Hammond says he had no choice but to cancel the event.
"I can't gamble with manufacturers' money," says Hammond.
Unfortunately for Hammond and his employer, the Puget Sound Automobile Dealers Association, the cancellation insurance they had applied for had not yet been approved, and the half million dollar loss was just that - a loss.
Today, Hammond says he won't be without cancellation insurance, and calls it a "wise investment," even though he's also not happy with the rising cost of premiums he and virtually every other event organizer is experiencing.
"The world is changing too fast and having to cancel the show was so bad for us, I'd never want to go through it again. My advice is: anything you can buy for protection, get it."
Eileen Hoffman, who works at Aon Association Services as program manager for Showstoppers Event Cancellation Insurance, points to the terrorism incidents of September 11, 2001 as the primary reason for an initial increase in premiums, one reason being the Terrorism Risk Insurance Act of 2002. Under that legislation, property and casualty providers must offer full terrorism coverage, a risk that some had excluded following the 9/11 attacks. For full terrorism coverage, some premiums have gone up by a factor of five, says Hoffman.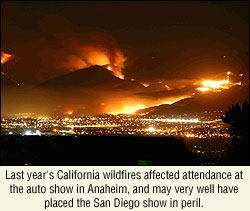 But premiums for policies that exclude the terrorism coverage (which is allowed under the TRIA legislation), have decreased, Hoffman says. The variation in premiums will occur when each event is considered individually.
"If the event is going to be held in the winter months, and it's in a region where weather is an issue, there is a higher risk of loss of revenue due to weather," says Hoffman.
Palmer & Cay representatives, on the other hand, suggest that having a form of group coverage (a specific type of insurance that has a group of insured parties pooling their premiums for specific coverage) would have at least the potential of spreading the risk of a terrorism threat among those participating in a plan, since auto shows occur at different times of the year. In other words, at any given time only one or possibly two shows would be exposed to such a peril.
Aon's Hoffman says other factors in setting premium amounts will include whether the show is open to the public, the type of event, the dates it is to be held as well as the show's financial projections.
Hoffman agrees with Hammond's advice about buying early, the failure to do so being one of the biggest mistakes she sees when it comes to securing cancellation insurance. "When they see the hurricane coming, it's too late," she says.


---
Jennifer Lindsey named ATAE Executive Director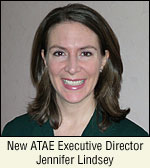 Jennifer Lindsey
has been named Executive Director of Automotive Trade Association Executives (ATAE) effective Jan. 15, 2004. The announcement was made by
Tom Dart
, ATAE President.
Lindsey is the former director of field Services for the Food Marketing Institute (FMI), in its Washington D.C. office. In that capacity, Lindsey served as the key liaison between FMI and its members, providing them with personalized access to institute services and resources. She primarily served members in the eastern part of the United States, from Maine through Florida.
Previously, Lindsey served as president of the Idaho Retailers Association, a position she held from 1996 through 2000. She was also Executive Director of the Idaho Lodging and Restaurant Association in Boise, Idaho. In addition to managing the associations, Lindsey served as their representative to state and federal policy makers, regulatory agencies, the media and the public. She represented her members on all matters of public policy, including tax and budget issues.
Lindsey holds a bachelor of music degree, magna cum laude, from the Hartt School, West Hartford, Connecticut. She is married to James Lindsey, a commercial airline pilot. They and their daughter, Amelia, make their home in Silver Spring, Maryland.
"After reviewing more than fifty resumes and interviewing nine outstanding candidates, the ATAE Executive Director Search Committee was excited to have someone of Jennifer's caliber willing and able to join our association in such an important role," Dart said.
Lindsey will attend the ATAE Winter Meetings held at the National Auto Dealers Association Annual Convention and Exposition in Las Vegas Jan. 29 - 31, 2004."


---
Upcoming Meetings and Events:
ATAE Winter Meetings
Jan. 29 - 31, 2004
Bellagio Resort Hotel and Casino, Las Vegas
ASNA Steering Committee Meeting
Friday, Jan. 30, 2004, 3:00 - 5:00 pm
Bellagio Resort Hotel and Casino, Las Vegas
Second Annual ASNA Media Luncheon
Thursday, Feb. 5, 2004
Chicago Auto Show
ATAE Summer Conference
July 13 - 16, 2004
Colorado Springs

---
New England International Auto Show
Boston flexes its muscle
Using the right combination of flashy cars, family activities, superheroes and beauty queens the New England International Auto Show (NEIAS) for the second consecutive year brought record-breaking crowds to the North East's first show of the season.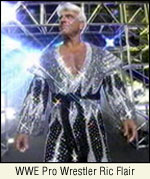 Beyond the glamour of sheet metal, crowds couldn't get enough of WWE pro wrestler Ric Flair, who signed autographs and flexed for fans. "He drew the biggest line for a celebrity besides Dale Earnhardt," says Barbara Pudney, director of marketing for show producer Paragon Group. "We had to cut the line off for autographs." Pudney adds that appearances by the eight-foot Rock-It Robot, the venerable Spiderman, "Miss Teen Massachusetts" and "Mrs. Massachusetts" were also major attractions.
Held Nov 1-9 at Boston's Bayside Expo Center, the NEIAS introduced a variety of 2004 badge vehicles, including the BMW X3, Chevy Colorado, Mazda3, Ford Freestar, Mercury Monterrey and the Nissan Pathfinder Armada.
"The two biggest hits were the Ford GT and the Ferrari Enzo," says Pudney. "People love looking at cars. They love looking at ultimately what they know they are going to buy, but they like to look at their dream cars too." The NEIAS also had its share of concept vehicles, including the Pontiac Solstice, Dodge M80 and a Chevy concept truck.
Pudney says the 285,000 square foot facility has lately proven too small for the show, part of which has been annexed to a 40,000 square foot structure to accommodate all the action.
She said Mother Nature aimed to stymie strong attendance on opening day, but that crowds rebounded the following Saturday. "We weren't thrilled that our opening day was 78 degrees. It was the perfect beach day in New England," she says, adding that it was just the opposite in 2002, when a Nor'easter wrecked havoc. "Our closing weekend dropped to 26 degrees and that brought out the masses," she says, noting that they drew in record crowds on that Saturday.
David Williams, vice president of the Massachusetts State Automobile Dealers Association, which sponsors the show, views the steady attendance figures as a sign that people aren't scared away by the bad economy anymore.
"We're in a resuscitating economy and I think the good attendance at the show indicates that people are in a car-buying mood," he said.


Profile: New England International Auto Show
Date:
Nov. 1-9, 2003

Place:
Bayside Expo Center, Boston

Exhibit Space:
285,000 square feet

Tickets:
$9 adults; $4 children

Show Hours:
Sat: 10 am-10 pm
Sun: 10 am-7 pm
Mon & Tues: 1-9 pm
Wed & Thurs: 1-10 pm
Fri: 10 am-10 pm

ATAE Contact:
David Williams
Massachusetts State Automobile Dealers Assoc.
617.451.1051
dwilliams@msada.org

Show Website:
www.bostonautoshow.com
---
Charlotte International Auto Show
An outstanding car market
While few show organizers would deliberately choose to run up against a NASCAR event the same weekend as their auto show (especially in the south), that's exactly what happened when the Charlotte International Auto Show (CIAS) and Lowe's Motor Speedway merged "calendar lanes" with this past October's UAW-GM Quality 500.
It's a testament to the strength of the CIAS that still produced the second best attendance in the history of the event.
"We had a great show, even with the extra competition," says Dick Lewis, who recently retired as executive director of the Greater Charlotte Automobile Dealers Association after 16 years. Lewis, who is continuing as show director, is succeeded at the association by long-time colleague Lorewww.charlotteautodealers.com/index.htmtta Allman.
One way organizers were able to keep the momentum strong in this year's show was through a dozen radio and television remotes. Plus Charlotte continued to focus on Sunday as its Family Day.
Think high school bands, jugglers, mimes and beauty queens and you'll begin to get the picture. Add team mascots from Charlotte's growing roster of professional sports teams and it becomes even clearer: combine stunning vehicles in an entertaining environment and success will follow.
Still, says Lewis, the Charlotte show is about the cars.
"That's what people come to see and that's what we give them," says Lewis, who is also a retiree of General Motors after 35 years of service. He says the dealers in the Charlotte area have come to value the event, now entering its 12th year.
"We now know that a high percentage of visitors - about 65 percent - intend to buy a car in the next 12 months," says Lewis. Show attendees spent an average of 2.5 hours at the show and visited an astounding 90 percent of all exhibits.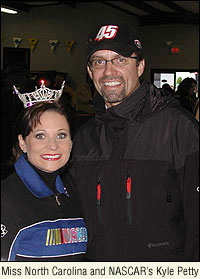 Lewis says show visitors received autographs from Busch Racing Series driver Mike Wallace, and Miss North Carolina Dana Raeson, while they mingled around the latest and greatest the automotive industry has to offer. That included a half dozen concept cars and a special corporate display from General Motors.
"It was outstanding," says Lewis, whose last job with GM was in the company's Pontiac division, based in the Detroit suburb of Pontiac.
Moving to Charlotte, he says, was in many ways like returning home after he had worked in the area at one point in his GM career.
Today he refers to Charlotte as "an outstanding car market" - partly because of its ranking as number 8 in per capita income and its position as the second largest banking center in America. Charlotte has a population of approximately 1.5 million - more than 4 million in a 100-mile radius of the city, making it the fifth largest metropolitan area in the United States.
And certainly one big enough to withstand the challenge of a very popular NASCAR race.


Profile: Charlotte International Auto Show
Date:
Oct. 9 -12, 2003

Place:
Charlotte Convention Center

Exhibit Space:
280,000 square feet

Tickets:
$7 adults; children under 12 free

Show Hours:
Thurs-Fri: 12-10 pm
Sat: 10 am-10 pm
Sun: 10 am to 6 pm

Show Contact:
Dick Lewis, Show Director
704.364.1078
gcada429@aol.com

Show Web Site:
www.charlotteautoshow.com

Discount Coupons:
$2 off admission coupons available at grocery stores, dealerships and banks in the Greater Charlotte metropolitan area.
---
Sacramento International Auto Show
Show benefits "techs to teachers" program
At the Sacramento International Auto Show, growth of nearly 100,000 square feet of displays over last year's event is bringing smiles to the faces of show attendees, exhibitors, members of the Central Valley New Car Dealers Association, and Stacey Castle. Castle's company not only produces the show, but she also serves as the organization's executive director.
That growth has propelled Sacramento to the verge of becoming "a true major market show," says Castle, president of Castle Communications, an advertising, special events and public relations firm.
Now essentially a "sold out" event at just under 250,000 square feet, the Sacramento show demonstrated the power of prime spot marketing, meaning Castle put extra energy into bringing attendees to the door at specific times and days.
"There were certain times we targeted to push the gate," says Castle. "We concentrated our efforts on those times to bring people to the show - and it worked."
One example was a free parking promotion (for the first 200 attendees daily), sponsored by Nissan. But Castle did more than offer a parking space.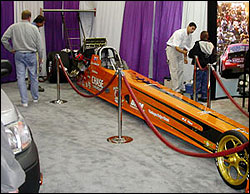 "For our first time using all five buildings at Cal Expo, we were careful to spread out our feature displays among all the different buildings," she says, referring to a drag race car exhibit from Sonoma's Infineon Raceway, a children's play area complete with a tricycle race track, and an extensive "Horseless Carriage" historic vehicle display.
Castle was also careful to spread out the traditional crowd pleasers, such as the exotics section. "There was something in each building that was really spectacular," she says.
While attendance was up for the fourth consecutive year, Castle says one of the most gratifying aspects of the show is the continued strength of an innovative scholarship program to help develop the next generation of automotive technicians. The scholarships are part of an ongoing automotive education program under the Professional Automotive Training Center, developed by the CVNCDA and local colleges.
Last year's donation of some $300,000 in equipment has meant further development of the program, including what amounts to a "lending library" of automotive technician training equipment that is being circulated throughout high schools.
This year, the emphasis is funding "Techs to Teachers," a scholarship program geared toward technicians who are employed at dealerships but who may want a second career teaching automotive skills to a new generation. Castle says the program is designed to increase the number of high school automotive instructors, who are in tremendous demand.
"The candidates for this scholarship are people who have been wrenching for some time," she explains. "They are excellent at what they do, and may want to take that knowledge into the classroom." Proceeds from the auto show are making these efforts possible.


Profile: Sacramento International Auto Show
Date:
Nov. 13-16, 2003

Place:
Cal Expo, Sacramento

Exhibit Space:
250,000 square feet

Tickets:
$8 adults, children 12 and under free

Show Hours:
Thurs & Fri: 11 am-9 pm
Sat: 11 am-8 pm
Sun: 11 am-6 pm

Show Contact:
Stacey Castle, ATAE
Executive Director, CVNCDA
Stacey@castlecommunications.net
916.635.2728

Show Web site:
www.sacautoshow.com

Discount Coupons:
$2 off coupon available at dealer members and show Web site
---
Seattle International Auto Show
New. Hot. Next.
Jim Hammond has three words to describe his overarching emphasis for the Seattle International Auto Show: New. Hot. Next.
Hammond, who is both show promoter and executive director of the Puget Sound Automobile Dealers Association, says the large regional association of more than 250 members puts a great deal of effort in promoting the annual event, starting with an emphasis on getting all the manufacturers participating.
"It's hard work getting them here," says Hammond. "You have to work with the smaller manufacturers who may not have auto show budgets. It's about talking to them, working out the arrangements, and making sure their vehicles are represented."
It certainly doesn't hurt that the Seattle show generates some 50 million media impressions in a 10-day period, plus more than a million visitors to its Web site (www.seattleautoshow.com).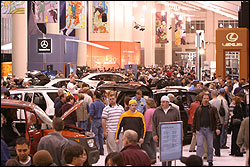 With half a million square feet of display space and more than one million pounds of freight coming to the Seahawk Center, accommodating each manufacturer is also a challenge, but one that Hammond says is worth it.
"Getting everyone in is the hardest part of the show, but you'd better have everything that's new or people will complain," says Hammond. "And if it's going to be in the showroom in the next four or five weeks, it had better be here."
The emphasis on getting a complete selection of vehicles may cover the "new" part of the equation, but Hammond says it's just as important to make sure the "hot" vehicles are on display as well.
"You talk to a 7-year-old and he'll tell you what's hot," says Hammond. "That means having the Ferraris, the Vipers, and the Masseratis at the show."
Another "hot" car is the Saleen S7, which was also prominently featured.
Hammond says he gets many of the ideas that find their way into the Seattle show from visiting malls throughout North America. The common denominator, he says, is entertainment.
"Like the mall, the auto show has to be an entertaining experience," says Hammond, who says the Seattle event does its job to deliver crowds who, above all, want to see "everything automotive."
Which brings Hammond back to the "what's new, what's hot, what's next" theme and his drive to include what people want most in a show.
"It may be the hardest part but if you don't have everything people want to see, they're not going to be happy and they won't be back," he says. "And if there is going to be a vehicle in a showroom over the next four or five weeks, you'd better have it here."
Hammond says the Seattle event was able to attract a good variety of concept cars, including exhibits from Japanese badges as well as the traditional North American-based automakers.
Exotics were also on the menu, with crowd-drawing examples such as vehicles from Ferrari, Maserati, and Aston Martin. "And Lamborghini is no stranger to our show," adds Hammond.
In addition, Seattle also featured selections from what the Guinness Book of World Records calls the world's largest automotive collection - the Tacoma-based Harold E. LeMay Museum. Hammond says the show was also able to feature vehicles from the Mustang Roundup, an organization of private owners.
His secret? "We treated them like royalty," says Hammond. The Seattle event also included a 200 miles per hour racing simulator, another crowd pleaser.
And then there's the trees. Yes, trees.
Hammond says show organizers landscape the entire three building complex with grasses, shrubs and trees, all with the intention of creating an event that is near perfection.
"It's got to look pretty, soft and have everything," says Hammond. "Plus it's got to be easy, streamlined for the public."
Not to be forgotten are the show workers, including narrators, who Hammond recognizes as being key to the public's knowledge of the vehicles on display.
With that in mind, the Seattle show has adopted a TLC philosophy that translates into a private lounge for product specialists, including a full time massage therapist, something Hammond says is easily justified.
The show setup also includes a high profile location for aftermarket accessories, which Hammond says recognizes the high value to the show itself ($100,000 in additional income) as well as a strong attendee interest. "The public loves them."
In the final analysis, the effort has translated into more tickets sold - and $50 million in sales generated in show attendance, a number Hammond says came into stark perspective when falling roof tile from the Seattle Kingdome forced a cancellation a few years ago.
Since then, and in the new Seattle Seahawks Center venue, the show keeps getting stronger and stronger.


---
South Florida International Auto Show
Fun for everyone and open 'til Midnight
"We are not the Chicago Auto Show and we are not the North American International Auto Show," says Cliff Ray, show coordinator for the South Florida International Auto Show. "We're a family event and we market our show in segments."
That means people, young and old, can see approximately 1,000 new vehicles then take a stroll down Memory Lane, featuring about 30 vintage cars, before visiting Million Dollar Alley and the elegant display of Aston Martin, Ferrari, Lamborghini, Lotus and Rolls Royce products.
Visitors also can check out the Ducati, Honda, Kawasaki, Suzuki and Yamaha bikes in the Motorcycle Display and can even purchase accessories for their vehicles in the Car Boutique.
Ray, whose father Leon started auto shows in South Florida, Los Angeles and San Francisco, has worked his own magic by making the South Florida show appealing to everyone.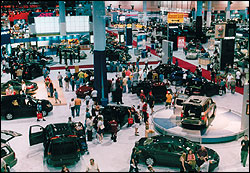 "Down here in South Florida, we don't have the most sophisticated mass transit system," he says. "Everyone in this region drives a car or depends on one for their own transportation. So people get excited about the show."
Ray reports that attendance to the show was up this year, with more visitors coming to see notable introductions, including the 2005 Ford Escape, the BMW X3 mid-sized SUV, and DaimlerChrysler's two vehicles in its Maybach line, which garnered lots of attention.
One lucky auto show visitor also won a 2004 Volvo XC90 SUV in a free car giveaway, which has become a yearly show tradition.
Building upon the notion that the auto show is fun for everyone, Ray says his show offers unique hours that other shows don't. The South Florida show on Fridays and Saturdays was open until midnight - something that works well considering its close proximity to other weekend hot spots.
"Not only does the show serve a purpose for dealers to sell more cars, but it also provides entertainment for families and couples on date nights. Being that we are on South Beach, we're the only show that is open until midnight," he says.
The show also invited 10th-12th graders in Miami-Dade County to participate in a concept car design competition. Winners accepted their awards at the annual press luncheon on the show's opening day.
"This is a great concept for students who aren't easily motivated by the normal curriculum," says Lilia Garcia, administrative director for the Life Skills Division at Dade County Public Schools. "This gives them something to really get excited about."


Profile: South Florida International Auto Show
Date:
Nov. 7-16, 2003

Place:
Miami Beach Convention Center

Exhibit Space:
1 million square feet

Tickets:
$10 adults; $3 for children 6-12

Show Hours:
Fri: 5 pm-midnight
Sat: 11 am-midnight
Mon: 2-11 pm
Tues: 11 am-11 pm
Wed-Thu: 2-11 pm
Fri: 2 pm-midnight
Sun: 11 am-9 pm

Show Contact:
Cliff Ray, show coordinator
305.947.5950
sfliautoshow@mindspring.com

Show Website:
www.sfliautoshow.com

Discount Coupons:
New car and truck dealerships; Walgreens and McDonald's in Miami-Dade and Broward counties.
---
Arizona International Auto Show
Just wait 'til the dust settles
Though the 2004-Model Arizona International Auto Show (AIAS) is in a state of transition, organizers say that the show's long-term future looks bright once they overcome a few hurdles.
One of those hurdles includes a recent show date change. Traditionally the show had opened on Thanksgiving Day, and enjoyed huge holiday weekend crowds. But that changed three years ago when the show was bumped to January so the City of Phoenix could bring in a larger commercial show.
But now, the show has its traditional Thanksgiving Day and weekend dates back - which meant even more work for the Arizona Automobile Dealers Association (AADA), having to organize two shows in 2003. "It was tough to have to do two shows and to change dates is always tough on the consumers," says Bobbi Sparrow, AADA vice president.
The next hurdle: show organizers now must deal with a venue expansion project that will last almost four years. "The next three years are going to be a real challenge for us, being in a couple of buildings instead of one," she says.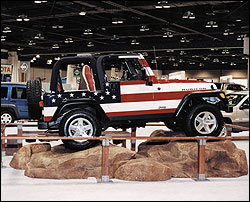 Sparrow refers to the doubling in size of the Phoenix Civic Plaza from about 250,000 square feet to 500,000 square feet. The partial demolition of the plaza began just weeks ago and construction is expected to continue for three years, at which point the show will once again be consolidated under one roof.
"We are delighted to get the additional square feet and know the manufacturers will be happy with more space" says Sparrow. "Just wait 'til the dust settles."
At this year's show, many attractions vied for visitors' attention, though the SEMA show cars were especially popular. "I think the SEMA vehicles have been a real boost to our show," says Sparrow. "The press loves them and so does the public."
Crowds, particularly the physically-challenged, also enjoyed Steve Bucaro's customized 2002 Dodge Ram 1500 truck. Bucaro, 23, was permanently injured in a motorcycle accident several years ago, but went on to invest about $20,000 to transform a Dodge Ram into a wheel chair-accessible vehicle.
Donated by DaimlerChrysler Corp., the truck features a built-in suspension that lowers the truck body to just inches off the ground to make it easier for a physically-challenged person to get out of the truck into a wheelchair, and vice versa.
"The truck was awesome," Sparrow says. "Steve was inspirational."
While the concepts and customized vehicles grabbed attention, Sparrow says most consumers come to the show to shop for vehicles, citing that more than 60 percent of visitors purchase or lease a new vehicle within 12 months of the show.


Profile: Arizona International Auto Show
Dates:
Nov. 27-30, 2003

Place:
Phoenix Civic Plaza

Exhibit Space:
250,000 square feet

Tickets:
$9 adults; $5 seniors; $4 kids 7-12

Show Hours:
Thurs & Sun: 10 am-7 pm
Fri & Sat: 10-10 pm

ATAE Contact:
Bobbi Sparrow, vice president
Arizona Automobile Dealers Association
602.468.0888
bobbi@aada.com

Show Website:
www.motortrendautoshows/phoenix

Discount Coupons:
Available on Website
---
Austin American-Statesman Auto Show
Small but proud
Thanks to more space in a recently expanded convention center and a family-friendly atmosphere, the Austin American-Statesman Auto Show is continuing its trend upwards with more attendance to its past show.
The show, which took place Oct. 23-26 at the Austin Convention Center, enjoyed a 50 percent increase in 2002 and attendance has increased yet again in 2003, according to Show Director Becky Squires.
"It's a chance for people to look without being approached by salespeople," says Squires. "The final make or break is, do they go into the auto dealerships the day after? That would be an unequivocal 'yes,'" Squires says.
She notes that the show attracts a mixed crowd, those who enjoy the glamour of seeing the latest model cars, trucks and SUVs, but also those who are there for practical purposes, adding that a "significant number of people are here to shop."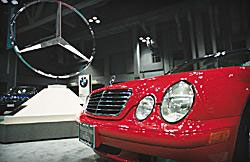 The Austin American-Statesman Auto Show brings in vehicles from approximately 26 automakers, according to Squires. In addition to the newest production vehicles, visitors also took in several slick Lotus brand vehicles and a Maserati - favorites with the younger set. "Children were climbing all over themů figuratively speaking," she adds.
The auto show also appealed to families, providing children with fun motorized cars and a petting zoo. Visitors also enjoyed a consolidated day of vintage and sports cars displays - a change this past year in contrast to each category having its own display day.
Show coordinators also continued to honor the best dealer or manufacturer with an annual trophy. The winner for 2003 was Mazda, which shipped in a top-level display featuring cars suspended overhead.
"We do our part to make sure the efforts of our dealer and manufacturer partners are well recognized," says Mike Marks, executive director of the Austin Automobile Dealers Association.
The show's biggest challenge concerns parking - something that has proven to have no clear solution. Organizers have tried shuttle busses and valet parking, which proved cost prohibitive. "Our challenge is parking at the convention center," she says. "People have to park a far way off; it's expensive and costs more than our admission."
Beyond the parking issues, Squires says that organizers take real pride in the providing a quality event for everyone.
"We're doing the best that we can," she says. "We're a smaller venue but we're really proud of what we do."


Profile: Austin American-Statesman Auto Show
Date:
Oct. 23-26, 2003

Place:
Austin Convention Center

Exhibit Space:
161,400 square feet

Tickets:
$5 adults; $3 seniors; 12 and under free

Show Hours:
Thurs: 1-9 pm
Fri & Sat: 10 am-10 pm
Sun: 10 am-6 pm

Show Contact:
Michael T. Marks, ATAE
Austin Auto Dealers Association
512.479.0425
mmarks@eami.com

Show Website:
N/A

Discount Coupons:
$1 off available at Statesman Cars at statesman.com.
---
Credits/Contacts:
Automotive Trade Association Executives
8400 Westpark Drive
McLean, VA 22102
703.821.7072
703.556.8581 - fax
www.info@atae.info
Tom Dart, ATAE President
adaa@mindspring.com
Jennifer Lindsey, ATAE Executive Director
jlindsey@nada.org
Rod Alberts, ASNA Chairman
ralberts@dada.org
The Auto Show Report
Joe Rohatynski, editor
joe@joepr.com
J.D. Booth, staff reporter
jd@jdbooth.com
Elizabeth Katz, staff reporter
llpa@sbcglobal.net

---
Auto Shows of North America Show Directory
Albany
Albany Auto Show

11/3/2017 - 11/5/2017
Albuquerque
New Mexico International Auto Show
4/13/2018 - 4/15/2018
Anaheim
Orange County Auto Show
10/4/2018 - 10/7/2018
Atlanta
Atlanta International Auto Show
3/21/2018 - 3/25/2018
Austin
Austin Auto Show
4/20/2018 - 4/22/2018
Baltimore
Motor Trend International Auto Show, Baltimore
2/8/2018 - 2/11/2018
Bedford, NH
New Hampshire Auto Show
11/18/2016 - 11/20/2016
Bethlehem, PA
Lehigh Valley Auto Show
3/22/2018 - 3/25/2018
Birmingham
Alabama International Auto Show
4/12/2018 - 4/15/2018
Boston
New England International Auto Show
1/11/2018 - 1/15/2018
Buffalo
Buffalo Auto Show
2/8/2018 - 2/11/2018
Calgary
Calgary International Auto & Truck Show
3/14/2018 - 3/18/2018
Charleston
West Virginia International Auto Show
1/19/2018 - 1/21/2018
Charlotte
Charlotte International Auto Show
11/2/2017 - 11/5/2017
Chicago
Chicago Auto Show
2/10/2018 - 2/19/2018
Cincinnati
Cincinnati Auto Expo
2/7/2018 - 2/11/2018
Cleveland
Cleveland Auto Show
2/23/2018 - 3/4/2018
Columbus
Columbus International Auto Show
3/15/2018 - 3/18/2018
Dallas
DFW Auto Show in Dallas
2/14/2018 - 2/18/2018
Dayton
Dayton Auto Show
2/22/2018 - 2/25/2018
Denver
Denver Auto Show
4/4/2018 - 4/8/2018
Detroit
North American International Auto Show
1/20/2018 - 1/28/2018
Edmonton
Edmonton Motor Show
4/12/2018 - 4/15/2018
Fort Worth
DFW Auto Show in Fort Worth
12/7/2017 - 12/10/2017
Greenville
South Carolina International Auto Show
1/12/2018 - 1/14/2018
Harrisburg, PA
Pennsylvania Auto Show
1/25/2018 - 1/28/2018
Hartford
Connecticut International Auto Show
11/17/2017 - 11/19/2017
Honolulu
First Hawaiian International Auto Show
4/13/2018 - 4/15/2018
Houston
Houston Auto Show
4/5/2017 - 4/9/2017
Indianapolis
Indianapolis Auto Show
12/26/2017 - 1/1/2018
Kansas City
Kansas City International Auto Show
2/28/2018 - 3/4/2018
Las Vegas
Las Vegas International Auto Show
11/24/2017 - 11/26/2017
Los Angeles
Los Angeles Auto Show
12/1/2017 - 12/10/2017
Louisville
Louisville Auto Show
1/19/2018 - 1/21/2018
Miami
Miami International Auto Show
9/9/2017 - 9/17/2017
Milwaukee
Greater Milwaukee International Auto Show
2/24/2018 - 3/4/2018
Minneapolis/St. Paul
Twin Cities Auto Show
3/10/2018 - 3/18/2018
Montreal
Montreal International Auto Show
1/19/2018 - 1/28/2018
New Orleans
Greater New Orleans International Auto Show
3/16/2018 - 3/18/2018
New York
New York International Auto Show
3/30/2018 - 4/8/2018
Oklahoma City
Oklahoma City International Auto Show
3/9/2018 - 3/11/2018
Oklahoma City
Oklahoma State Fair Auto Show
9/14/2017 - 9/24/2017
Omaha
Midlands International Auto Show
1/18/2018 - 1/21/2018
Orlando
Central Florida International Auto Show
11/23/2017 - 11/26/2017
Philadelphia
Philadelphia International Auto Show
1/27/2018 - 2/4/2018
Phoenix
Arizona International Auto Show
11/23/2017 - 11/26/2017
Pittsburgh
Pittsburgh International Auto Show
2/17/2017 - 2/20/2017
Portland
Portland International Auto Show
1/25/2018 - 1/28/2018
Providence
Northeast International Auto Show
2/9/2018 - 2/11/2018
Richmond
Virginia Motor Trend International Auto Show
2/16/2018 - 2/18/2018
Rochester
Rochester International Auto Show
3/1/2018 - 3/4/2018
Sacramento
Sacramento International Auto Show
10/20/2017 - 10/22/2017
Saint Louis
Saint Louis International Auto Show
1/25/2018 - 1/28/2018
Salt Lake City
Utah International Auto Expo
1/12/2018 - 1/15/2018
San Antonio
San Antonio Auto & Truck Show
11/9/2017 - 11/12/2017
San Diego
San Diego International Auto Show
12/28/2017 - 1/1/2018
San Jose
Silicon Valley International Auto Show
1/4/2018 - 1/7/2018
Seattle
Seattle International Auto Show
11/9/2017 - 11/12/2017
Spokane
Spokane International Auto Show
2/9/2018 - 2/11/2018
Tampa
Tampa Bay International Auto Show
11/17/2017 - 11/19/2017
Toledo
Greater Toledo Auto Show
2/8/2018 - 2/11/2018
Toronto
Canadian International Auto Show
2/16/2018 - 2/25/2018
Tulsa
Tulsa Auto Show
4/13/2018 - 4/15/2018
Vancouver
Vancouver International Auto Show
3/28/2018 - 4/1/2018
Virginia Beach
Hampton Roads International Auto Show
1/12/2018 - 1/14/2018
Washington
Washington Auto Show
1/26/2018 - 2/4/2018