Contents:
1. McNeely Named ATAE President
2. ASNA Governance
3. ASNA Insurance Initiative
4. Exhibit advice
5. San Jose
6. Chicago
7. Connecticut
8. Los Angeles
9. Washington
10. Central Florida
11. Credits/Contacts
12. Show Directory
---
McNeely named President of ATAE
Veteran association executive
Don L. McNeely
has been named president of the
Automotive Trade Association Executives (ATAE)
for 2004-2005.
McNeely, who had been vice president, was officially installed as the ATAE's 64th president at its winter meetings Jan. 29 – Feb 2, 2004 in Las Vegas. He succeeds Thomas R. Dart, CAE, president of the Automobile Dealers Association of Alabama.
Don L. McNeely
McNeely has been president of the 270-member Kansas Automobile Dealers Association since 1991, and was previously director of dealer relations with the Illinois Auto Dealers Association, where he focused on regulatory issues and member services.
As ATAE president, McNeely says he hopes to maintain and build upon the positive momentum and energy started by his predecessors in recent years.
"This is truly an exciting time for ATAE," says McNeely. "Thanks to some outstanding leaders, there's been a new energy developing throughout our organization in recent years, and we've really become the professional association our members deserve.
"I want to keep the train on the track and assure members that we will continue to respond proactively to their concerns and interests, and enhance communication between individual ATAEs and the association," says McNeely. "And with the help of our new leadership team, which includes Jennifer Lindsey, our new executive director, we are in a terrific position to accomplish the goals that lay ahead in 2004."
McNeely, who is experienced in broad-based member insurance programs, says helping auto shows get a handle on insurance costs is also a goal of ATAE.
"We'll definitely be watching the progress of the ASNA Steering Committee and will look for opportunities to offer support and assistance along the way," he adds.
A graduate of Western Illinois University, McNeely lives in the Topeka, Kansas, area with his wife, Kathy, and their two children.


---
ASNA firms up organization structure with chairs, committee members
The Mission of ASNA is to be the industry resource for auto show information and education, and to provide a network for communication between show executives, manufacturers, other industry affiliates and media.
An industry resource. A network for show executives.
Those are among the key elements of a mission statement for Auto Shows of North America (ASNA), a group founded in 2002 by show organizers and members of the Automotive Trade Association Executives (ATAE).
With member executives of some 65 auto shows in the U.S. and Canada, the need was clear: being able to network on issues of mutual importance and significance, and to build on the information and experience gained by each auto show organizer.
ASNA is already well on the way to achieving its mission statement, says Todd Leutheuser, executive director, Southland Motor Car Dealers Association in Long Beach, Calif., who currently serves as First Chair of the organization. In 2005, Leutheuser will assume the role of Chair, replacing Rod Alberts, executive director of the Detroit Auto Dealers Association, and co-founder of ASNA.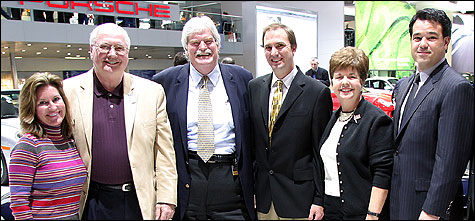 Enjoying a break from the ASNA Steering Committee meeting at the North American International Auto Show, from left, Stacey Castle, ASNA member/Sacramento; Don Hansen, ASNA member/Milwaukee; Keith Crain, chairman, Crain Communications; Todd Leutheuser, ASNA member/Anaheim; Martha Cusimano, ASNA member/Bethlehem; and Kevin Mazzucola, Philadelphia.
A formal succession of leadership also includes the Second Chair of ASNA, currently held by
Peter Hodges
, president, Metropolitan Automobile Dealers Association, Oklahoma City, who will also move up the ranks at next year's ATAE winter meetings in New Orleans.
Members of the ASNA Steering Committee are ATAE directors whose associations have auto shows, with a term running concurrently with their ATAE board term (two years).
In cases where the representative is a non-auto show ATAE board member, the chair of ASNA will appoint an "at large" member from that region. That position is for a one-year term.
Region one committee members are Paul Stasiak, president, Niagara Frontier Automobile Dealers Association, and Martha Cusimano, executive director, Greater Lehigh Valley Auto Dealers Association, (at large).
In Region two, Shayne Wilson, executive director, Metro Atlanta Automobile Dealers Association, will be joined by Brett McBrayer, president, Birmingham Automobile Dealers Association, (at large).
Region three is represented by Dave Crafton, executive vice president, St. Louis Auto Dealers Association, and Don Hansen, president, Automobile Dealers Association of Mega Milwaukee, (at large).
And in Region four, Chris Neuber, executive vice president of the Oregon Automobile Dealers Association, and Stacey Castle, executive director of the Central Valley New Car Dealers Association, (at large) will round out the list of representatives.
Ex-officio members of the ASNA steering committee include the ATAE president and vice president, this year Don McNeely and John Lyboldt, respectively.
The governance model and appointments to the 2004 ASNA steering committee were approved at the January 29, 2004 meeting of the ATAE board of directors.
First chair Todd Leutheuser says the organization model should help ASNA in its efforts to help auto show organizers maximize networking opportunities and, in doing so, gain valuable insights into what would otherwise be a "learn as you go" environment.
"We have a lot of extremely talented and experienced people running auto shows across the continent," says Leutheuser. "At the same time, we have new people as well, and even the 'veterans' of this industry can learn from their innovative spirit and willingness to try new things. There is very much a collaborative, renewing spirit at the heart of ASNA and we're all very excited to see how far this will take us."


---
Insurance initiative
ASNA moves closer to insurance options for members
An early initiative of Auto Shows of North America (ASNA) is a thorough exploration of the insurance issue, including both cancellation and liability coverage for shows. Currently, shows arrange for individual coverage, without the benefit of consistency or group buying power.
The ASNA Steering Committee continues to research the issue. The next step, say members, is to join with the ATAE to survey members on their coverage needs, challenges, etc., then invite select insurance brokers to bid for ASNA group business. ATAE members will be asked to suggest brokerage firms as part of that process.
Jennifer Lindsey, ATAE executive director, and Joe Rohatynski, ASNA public relations consultant, will organize and facilitate the drive to bring these new options to ASNA members.
Also on the ASNA radar screen is a spring 2004 workshop entitled "Managing Your Auto Show," tentatively scheduled for May 2004 in Detroit; and development of an ASNA Website.
The workshop, open only to ATAE members, is being organized by a subcommittee lead by Martha Cusimano and Stacey Castle, and will help members (even those who do not currently produce their own show) better understand the mechanics of such an undertaking.
For more information on the event or to suggest topics to be included, contact Cusimano or Castle.
The Website is intended to become an interactive information resource utilized by members, manufacturers, press and other auto show partners. The Website will list auto show best practices, and will include member directories, key manufacturer contacts, media lists, exhibit house information and several categories of show vendors and resources. The site is expected to be launched later this year.


---
Exhibit industry offers organizers timely advice
Show organizers that keep exhibit suppliers "in the loop" on auto show regulations and logistics are behaving with more than good manners.
It's a necessity that will ultimately improve both the efficiency and marketability of an auto show, according to several exhibit producers, including Derek Gentile, president of Exhibit Enterprises, a Dearborn, Mich.-based firm.
Derek Gentile
"Knowing the rules and providing consistent communication in advance of any significant changes to regulations, codes or schedules can make a huge difference," says Gentile (pronounced Gen-TEAL-lee), who adds that effective preplanning for an event like an auto show means better managing of supplier costs because better organization pays dividends in both time and money.
And that can translate into better show management and more involvement from automakers.
Kevin Pritchard, vice president at Livonia, Mich.-based Exhibit Works, agrees that last minute "unforeseen" costs have an impact as the show season goes forward.
"Manufacturers are held to these budgets and if one show runs over, the budget for a show farther out in the year is decreased," says Pritchard. "The money just isn't there."
One area that exhibit houses find irksome is related to drayage – the transportation of exhibit materials from the loading dock to the exhibit space and, when the show's over, back to the dock.
The problems arise when costs that may have little or no relationship to that activity are lumped into that category or when weight is used to calculate the charge. And when a forklift is involved, some would argue a charge per hundred weight is unreasonable.
So is throwing costs into the drayage category without itemizing.
"If there are costs incurred, it should be listed as a line item or a square footage rate," says Pritchard. "To arbitrarily dump costs under drayage is unacceptable in this day and age. People want to know what they're paying for."
Ron Williams
Ron Williams
, executive vice president at Auburn Hills, Mich.-based
George P. Johnson Company
, agrees.
"If show managers could minimize the cost of drayage, it would be a great advantage."
One example of such costs is the cleaning of an exposition facility. Some organizers bear this cost while others will pass it onto their exhibitors by including it in necessary installation functions such as drayage.
"It's difficult for the manufacturer to contest the charges, because they don't understand what is included," says Gentile.
While certainly cost is a factor, so is the issue of varying costs between one show and another, something that is of concern to Scott W. Stubbs, chief operating officer at Detroit-based H.B. Stubbs Company.
Scott W. Stubbs
"It's frustrating for us and our major customers," says Stubbs, referring to two categories of work in particular – carpentry and electrical.
"Carpentry rates in New York, for example, are 50 percent more expensive than Detroit," says Stubbs.
On the electrical side, Stubbs says one exhibit set up in Los Angeles cost $8,000 to wire; in Detroit, the same job cost $28,000.
Stubbs has two major questions: "How can we control and reduce those costs and why do they vary so widely?"
He says the answers are likely to come when cities step in to help with the negotiations, especially when pressure is on to move other convention business to cities like Las Vegas and Orlando.
At the same time, Stubbs says there's a need for larger venues, where the space would be used to spread out displays or accommodate those wanting to be in a show.
"There's new business out there, particularly with Tier One suppliers and component manufacturers who would like to be on the show floor but can't right now," says Stubbs.
Back to the cost side of the show equation, organizers can score points by working with exhibit houses and keeping them informed, says Gentile, of Exhibit Enterprises.
"When it means extra costs for OEMs, that's not good," he says. "But by bringing the stakeholders into the game early, show organizers can help on the costs side."
Those shows that keep their exhibitors and their suppliers (including exhibit companies) informed in the weeks leading up to an event will ultimately be more successful as a result, he adds.
"Getting the show manual a good 45 to 60 days before the event is certainly a good thing," says Gentile. "Preplanning is very important, critical really, and if you don't have the show manual, the show does go on but you end up running into expensive changes that ultimately mean costs for the exhibiting client."
Scott Stubbs says some organizers are better than others when it comes to including exhibit houses in their upfront planning.
Kevin Pritchard
"Some organizers are very good, even to the extent where they'll have a meeting to review in detail the logistics side of the show, not just the marketing or public side," says Stubbs.
"That can be a real benefit to the OEM exhibitor, especially in leveraging the knowledge and resource of the exhibit houses," he says.
One of the biggest hits from a cost side can be when installation and dismantle schedules occur on a weekend, says Kevin Pritchard, of Exhibit Works.
"Certainly, it puts us, and consequently the OEM exhibitor, into an overtime situation and that means more cost. It's much better to try to do things on straight time."


Start treating show attendees like the potential customers they are, GPJ exec says
Mike Westcott
Reduced costs for auto show exhibitors? Mike Westcott, vice president of marketing at the George P. Johnson Company, says another way to increase the value equation would be to recognize the power of the show as a marketing event.

"Keep in mind that those who attend shows are highly qualified and valued prospects, 65 percent of whom are planning to be in the market in the next six months," says Westcott. "Instead, some show organizers treat attendees like they're going to the movies."

Watch for more from Westcott in the next issue of ASNA's The Auto Show Report.
---
San Jose International Auto Show
One for the record books in San Jose
Everyone wondered, but when the doors closed, they knew for sure: the
2004 San Jose International Auto Show
was one for the record books with more attendance than any show in its 10 year history.
That according to Stephen Smith, executive director of the Silicon Valley Auto Dealers Association, who couldn't be happier with the way the show transitioned to new producers.
He says one reason for the boost in attendance was a very successful promotion involving McDonald's—a $2 off coupon which included $1 going to Ronald McDonald House Charities.
"Our cross promotion with RMHC was the most successful of any Motor Trend Show in its first year," says Smith.
There was also a feature appearance by "Dora the Explorer", a popular children's television character that emphasized the "family friendly" tone of the show.
Smith says additional promotions all worked to boost attendance as well, including a "Shot on Goal" contest that featured a $10,000 prize toward the purchase of a new vehicle and a redemption program involving San Jose Sharks hockey tickets for a $2 discount to the show.
Even the media were on board with this year's show.
"This is a traditionally difficult media market," says Smith, noting the calendar positioning of the San Jose show between Detroit and Los Angeles. "But we had some of the best media coverage we've ever had."
The area served by the San Jose International Auto Show accounts, Smith says, for a 3-to-1 ratio of new vehicle sales in the Bay Area, one reason for the dealer association's emphasis on building awareness and visibility for the event.
"I think we achieved that," says Smith.
Manufacturer support for the event was very strong, he adds.
"We had more visibility than any other show in the past, one reason being that three of the manufacturers - BMW, Mercedes and Mazda - this year classified San Jose as a national show," says Smith, referring to the level of financial investment a manufacturer will be able to commit to an event.
Other highlights of the show included the appearance of a good selection of SEMA vehicles from (the Specialty Equipment Manufacturers Association), cars and trucks that demonstrate customized features that are available in the market (as compared with "concept" vehicles).
"Those vehicles got a great reception with our crowds," says Smith.
Positioning of the San Jose International Auto Show was also an important consideration.
"We set up ourselves as 'high tech meets Detroit'," says Smith. "This was a very special opportunity for us and in the end it came across just exactly the way we would have liked."


Profile: San Jose International Auto Show
Date:
Jan. 7 – Jan. 11, 2004

Place:
San Jose McEnery Convention Center

Exhibit Space:
195,000 square feet

Tickets:
Adults (13 and over) $8, Seniors (62 and over, weekdays only) $5, Children (7 to 12) $4, under 6 Free.

Show Hours:
Wed through Fri, noon to 10 pm, Sat, 10 am - 10 pm, Sun, 10 am - 7 pm.

ATAE Contact:
Stephen C. Smith
408.437.7557
sjias@sbcglobal.net

Show Web site:
www.sjautoshow.com

Discount Coupons:
$2 off McDonald's promotion ($1 going to Ronald McDonald House Charities), redemption of San Jose Sharks tickets for $2 off, San Jose Mercury News ½ off Wednesday.
---
Chicago Auto Show
Chicago to expand McCormick Place
The Chicago Automobile Trade Association (CATA) announced that McCormick Place, one of the nation's premier convention centers and home of the Chicago Auto Show, will undergo an expansion that will bring the 2005 show to 1.2 million square feet of exhibit space, all on one level.
The windy city event will swallow some 369,000 square feet of new space with the expansion, roughly the size of three Wal-Mart stores.
The move, says CATA Chair Casey Wickstrom, is a natural one.
"The beauty of having a facility like McCormick Place at our disposal is that there is nothing that has to be built or changed to accommodate the expansion of this show," says Wickstrom.
Indeed, most auto shows want more exhibit space. And, says Jerry Cizek, general manager of the Chicago show, customer demand for more space is at the heart of expansion, even at the already spacious McCormick Place.
"Manufacturers are clamoring for bigger and more elaborate displays, but other venues are unable to accommodate them," says Cizek. "Chicago offers the immediate solution to the problem." The city, Cizek says, is also a natural fit for a show of this magnitude.
"When you wrap up the McCormick Place package with the backdrop and attraction of an international business and tourism destination, the result is unmatched. Seeing this show grow again is a testament to the popularity of our city and the automotive industry."
McCormick Place pumps more than $2 billion into Chicago's local economy and hosted more than three million convention, tradeshow and meeting attendees in 2003.
Meanwhile, some 15 new vehicles were unveiled during the show's press days, including the 2005 Buick LaCrosse, shown by General Motors Vice Chairman Bob Lutz and President North America Gary Cowger, and the all-new 2005 Dodge Dakota revealed by Joe Eberhardt, DaimlerChrysler executive vice president, Global Sales & Marketing.
Profile: Chicago Auto Show
Date:
Feb. 4 - 5 (media); Feb 6 - 15, 2004

Place:
McCormick Place

Exhibit Space:
840,000 square feet

Tickets:
Adults, $10; Seniors (62 and over), $5; Unaccompanied children, $5; Children under 12 with an adult, free

Show Hours:
Feb. 6 - Feb. 14: 10 am - 10 pm; Feb. 15: 10 am - 8 pm.

ATAE Contact:
Jerry H. Cizek
Chicago Automobile Trade Association
630.495.2282
jcizek@drivechicago.com

Show Website:
www.chicagoautoshow.com
---
Connecticut International Auto Show
Hartford's winning formula: buy more ads
Show veteran Edward Isenberg says he's got the formula down for bringing in the masses to the show: less entertainment and more ads. Isenberg says doing a good job at getting the word early and often has really helped drive the gate.
"We did a lot of traditional advertising," says the executive director of the Greater Hartford Automobile Dealers Association. "We feel that's the best way of bringing in people, and it probably accounted for our attendance increase."
Show management saw visitors mostly from the Greater Hartford area, but have seen more people lately from New Haven, which used to have its own show before it shut down a couple of years ago.
Connecticut VIP Charity Night
Some $3,000 was raised during the CIAS VIP Charity Night to benefit Foodshare, an organization that helps feed the hungry. Pictured left to right Bill Morande, GHADA president; Linda Martyn of Foodshare; and Al Terzi, local TV personality.
CIAS floor space increased in 2000 from 50,000 square feet to its current 65,280 square feet at the Hartford Civic Center, where the show has been held for 25 years. Isenberg says the event has taken on the greater appearance of an auto show with the additional space. And, it appears that the show may move, this time to the new Connecticut Convention Center slated to open in 2005. That would provide the show with 145,000 square feet of space.
Although Isenberg says he has diverted money away from entertainment – which didn't necessarily pull in stronger crowds in the past – the show again this year featured a popular mountain biker who jumped over several Volvo cars.
For now, show organizers are taking a breather from organizing the next show. Isenberg says he and his team usually start planning six months before the event. He noted that there were no real challenges to organizing this year's auto show and feels he's staying the right course in planning the show.
"Our formula has worked out very well," says Isenberg. "Judging from what people have told us, and the strong attendance, we feel we have the right product."


Profile: Connecticut International Auto Show
Date:
Nov. 20-23, 2003

Place:
Connecticut Expo Center, Hartford

Exhibit Space:
65,280 square feet

Tickets:
$10 for adults; children 8 and under free

Show Hours:
Thurs: 5 pm-10 pm
Fri & Sat: 11 am-10 pm
Sun: 11 am-5 pm

ATAE Contact:
Edward Isenberg, executive director
Greater Hartford Automobile Dealers Association
860.246.6566
assocmanagement.com

Show Website:
www.ghada.com

Discount Coupons:
$2 off for seniors on Thursday and Friday nights and any day for students.
---
Greater Los Angeles Auto Show
Tinseltown event brings stars (and cars)
Only in Hollywood.
Where else, after all, could you have stars like Nicolas Cage, Tom Hanks, Dustin Hoffman and Sylvester Stallone—and not be paying an appearance fee?
We're talking, of course, about the Greater Los Angeles Auto Show, the event organized through the Greater Los Angeles New Car Dealers Association that "reflects everything there is about the California lifestyle," according to its director of communications.
And celebrities are just part of that experience.
"They come on their own," says Barry Toepke. "We sometimes get a call and we help them with parking and shadow them with a security guard, but typically people leave them alone."
At the same time, "all of them were very receptive," says Toepke. Still, celebrities (and now politicians of the Arnold Schwarzenegger variety) are there for the same reason as everyone else—the vehicles. And certainly, with a six percent increase in attendance, they weren't alone.
One area of special interest was the entire hall occupied by the Porsche Experience, which took consumers through the company's heritage, building up to the current display of products, including the Carrera GT.
Not to be ignored were domestic auto makers such as General Motors, which held five world debuts of upcoming products at the L.A. show.
Indeed, the keynote speech to the Motor Press Guild by Gary Cowger, GM's president of North American operations, was a highlight of the pre-show media days, says Toepke. "It set the tone for what was to follow," he says.
That included widespread media coverage, with strong local attention as well that was complemented with the traditional advertising buy that the L.A. show uses to draw a crowd.
"People are accustomed to knowing that at the beginning of the year, the Los Angeles Convention Center is the place to go to see what the industry has to offer," says Toepke, who adds that the attendance make-up was both family-friendly and diverse.
"We saw a lot more families at the show and when you walked the show floor, you saw the melting pot of cultural influences that the Los Angeles area represents."
Other highlights of the L.A. event included a strong emphasis on the aftermarket segment, with a large (160,000 square foot) hall dedicated to this growing part of the market.
So, is the interest in high performance offerings as well as exotic vehicles—notably Ferrari and Masserati—a reflection of the L.A. market?
Barry Toepke is unabashedly quick with his answer.
"Absolutely," he quips. "We are what we drive."


Profile: Greater Los Angeles Auto Show
Date:
Jan. 2 - Jan. 11, 2004

Place:
Los Angeles Convention Center

Exhibit Space:
760,000 square feet

Tickets:
Adults $10, Seniors (weekday) $7, Children (12 and under) Free

Show Hours:
Fri 11 am - 10:30 pm, Sat 9 am - 10:30 pm, Sun 9 am - 8 pm, Mon - Thurs 11 am - 10 pm

ATAE Contact:
Charlie Gill
323.851.0025
glancda@mindspring.com

Show Web site:
www.laautoshow.com

Discount Coupons:
$2 off available at participating Chevron stations and new car dealerships.
---
Washington Auto Show
First public show in new venue generates record attendance
They're calling it a show of firsts.
For the 2004 Washington Auto Show, the list starts with the event being the first public show held in the new Washington Convention Center.
Add to the fact that the 10 day event topped a previous attendance record by one third, and you can begin to see why organizers are still smiling.
Some 500 vehicle makes and models were featured in Washington, along with celebrities (a total of 38 appearances), 15 pro sports and children's movie mascots, plus 23 broadcast promotions.
Show attendees had an opportunity to win one of nine vehicles, with special tribute being paid to America's serving military. One of the cars in the "Hands On" contest – a 2004 Camry – was reserved to be won by a member of the military serving overseas. The lucky winner was U.S. Army Sergeant First Class Kenneth Younger, who is getting ready for deployment to Iraq.
While the contest may have helped unify those associated with the show, so did the work in uniting a host of downtown business development groups, including the Washington Convention and Tourism Corporation.
The effect, says
Gerry Murphy
, executive director of the
Washington Area New Car Dealers Association
(WANADA), has been to extend the marketing impact and economic contribution of the auto show throughout the district.
For example, there were almost 100 banners in the downtown area heralding the show.
In the meantime, more and more corporations have joined forces with WANADA. They include the DC Lottery, METRO, XM Satellite Radio, Exxon Mobil, Simply Wireless, BB&T and Wendy's restaurants.
Other popular giveaways at the show included a virtual "closest-to-the-pin" contest sponsored by the Washington Area Chrysler Dealers, with the prize of a Chrysler Crossfire, as well as a "Lottery Second Chance" drawing of non-winning instant tickets with the prize of a 2004 Ford Thunderbird.
Not to be outdone were the Washington Area Dodge Dealers, who provided a 2004 Dodge Durango ST 4x4 to an individual who most closely guessed the number of Washington Wizards mini-basketballs stuffed inside the vehicle.
And in Hyundai's "Price is Right" contest, guessing the total value of a prize that included a Hyundai Santa Fe SUV plus hidden cash and a trip for two to Los Angeles.
The show's "Snow Ball" fundraising event, which benefited several charities including the American Red Cross, Boy Scouts of America, Parkinson Foundation and the R. Adams Cowley Shock Trauma Center, was once again a popular element. To date, the annual Snow Ball has raised more than $1 million for charity.


Profile: Washington Auto Show
Date:
Dec 26, 2003 - Jan 4, 2004

Place:
Washington Convention Center

Exhibit Space:
725,000 square feet

Tickets:
$10 for adults, $5 children (12 and under); $8 for senior citizens & military

Show Hours:
10 am to 9 pm on 12/26-12/30 & 1/1-1/3 ; 9 am - 6 pm on 12/31 & 1/4

ATAE Contact:
Gerry Murphy, CAE
202.237.7200
gm@wanada.org

Show Web site:
www.washingtonautoshow.com

Discount Coupons:
$2 off coupon from any participating Wendy's
---
Central Florida International Auto Show
Show enjoys strong year, returns to traditional Thanksgiving slot
Back on track.
That's the assessment of Barbara Miller, executive vice president of the Central Florida Auto Dealers Association, when asked about last year's Central Florida International Auto Show.
With attendance up 13.4 percent over the previous year, Miller is all smiles, and especially so now that she's back to the Thanksgiving holiday slot after a hiatus related to tight space considerations at the Orange County Convention Center.
But now that the facility has doubled in size (and other events can be given space that doesn't impede on the auto show set up and take down window), the Orlando show is right where it's always been from a calendar perspective.
"It's a tradition for people to come to the show during Thanksgiving," says Miller. "And a holiday time means more people can come."
Even with the calendar on her side, there were other factors in Miller's favor.
"We had more sponsors this year," she says. "That meant our income was up and our expenses were down. We also had more advertising partnerships."
The "everything went right" also carried over to the area where many shows find they need extra help—entertainment.
"Because we had more exhibits that had that component, we didn't need to spend as much in that area," says Miller.
One example of that was Corvette's 50th Anniversary, sponsored by Chevrolet, which was housed in a separate section.
And the Jeep exhibit featured a 25 foot rock climbing wall that had people lined up waiting to try their hand (or is that hands and feet?) at one of three different skill levels.
Exhibits at Dodge and Chrysler-Jeep also brought out a number of Orlando Magic basketball players.
The show's new space will give exhibitors more opportunity to expand their displays, and all in one room. The previous hall area occupied by the show was "L" shaped.
"We're excited that we'll have the opportunity of expanding even more," says Miller, referring to an additional 20,000 square feet they have booked for the 2004 event.
Even parking, which was previously a challenge due to construction trailers in the parking lot, has eased up somewhat. Also, the Center offered a reduced rate ($5 versus $10) for public events such as the auto show.
Miller says event publicity was further boosted by the Orlando Sentinel newspaper, which added a third special auto section, plus an additional section in the paper's Spanish language edition—El Sentinel.
The auto show advertised in a radius 100 miles from the venue.
While show goers were treated with what they came for—the vehicles—Miller says exhibitors were lauded with three awards that recognized their efforts.
A Best of Show trophy was won by Chevrolet; Best Concept went to Dodge Magnum. The People's Choice award (given out two weeks after the show and based on attendance surveys) also went to Chevrolet.


Profile: Central Florida International Auto Show
Date:
Nov. 26 – 30, 2003

Place:
Orange County Convention Center, Orlando

Exhibit Space:
400,000 square feet

Tickets:
Adults (13 and over) $8, Seniors (62 and over) $4, High school and college students (with ID) $4, Children (7 to 12) $2, Children (6 and under) Free

Show Hours:
Wed & Thurs, noon-10 pm
Fri & Sat, 10 am.-10 pm
Sun, 10 am-7 pm.

ATAE Contact:
Barbara Miller
Central Florida Auto Dealers Association
407.352.5243
cfada1@aol.com

Show Website:
www.motortrendautoshows.com/Orlando

Discount Coupons:
$2 off adult admission coupons available at McDonald's restaurants, pre-show grand opening of expanded convention center, and Website. Wednesday was Orlando Sentinel newspaper day half price admission.
---
Credits/Contacts:
Automotive Trade Association Executives
8400 Westpark Drive
McLean, VA 22102
703.821.7072
703.556.8581 - fax
www.info@atae.info
Tom Dart, ATAE President
adaa@mindspring.com
Jennifer Lindsey, ATAE Executive Director
jlindsey@nada.org
Rod Alberts, ASNA Chairman
ralberts@dada.org
The Auto Show Report
Joe Rohatynski, editor
joe@joepr.com
J.D. Booth, staff reporter
jd@jdbooth.com
Elizabeth Katz, staff reporter
llpa@sbcglobal.net

---
Auto Shows of North America Show Directory
Albany
Albany Auto Show

11/3/2017 - 11/5/2017
Albuquerque
New Mexico International Auto Show
4/13/2018 - 4/15/2018
Anaheim
Orange County Auto Show
10/4/2018 - 10/7/2018
Atlanta
Atlanta International Auto Show
3/21/2018 - 3/25/2018
Austin
Austin Auto Show
4/20/2018 - 4/22/2018
Baltimore
Motor Trend International Auto Show, Baltimore
2/8/2018 - 2/11/2018
Bedford, NH
New Hampshire Auto Show
11/18/2016 - 11/20/2016
Bethlehem, PA
Lehigh Valley Auto Show
3/22/2018 - 3/25/2018
Birmingham
Alabama International Auto Show
4/12/2018 - 4/15/2018
Boston
New England International Auto Show
1/11/2018 - 1/15/2018
Buffalo
Buffalo Auto Show
2/8/2018 - 2/11/2018
Calgary
Calgary International Auto & Truck Show
3/14/2018 - 3/18/2018
Charleston
West Virginia International Auto Show
1/19/2018 - 1/21/2018
Charlotte
Charlotte International Auto Show
11/2/2017 - 11/5/2017
Chicago
Chicago Auto Show
2/10/2018 - 2/19/2018
Cincinnati
Cincinnati Auto Expo
2/7/2018 - 2/11/2018
Cleveland
Cleveland Auto Show
2/23/2018 - 3/4/2018
Columbus
Columbus International Auto Show
3/15/2018 - 3/18/2018
Dallas
DFW Auto Show in Dallas
2/14/2018 - 2/18/2018
Dayton
Dayton Auto Show
2/22/2018 - 2/25/2018
Denver
Denver Auto Show
4/4/2018 - 4/8/2018
Detroit
North American International Auto Show
1/20/2018 - 1/28/2018
Edmonton
Edmonton Motor Show
4/12/2018 - 4/15/2018
Fort Worth
DFW Auto Show in Fort Worth
12/7/2017 - 12/10/2017
Greenville
South Carolina International Auto Show
1/12/2018 - 1/14/2018
Harrisburg, PA
Pennsylvania Auto Show
1/25/2018 - 1/28/2018
Hartford
Connecticut International Auto Show
11/17/2017 - 11/19/2017
Honolulu
First Hawaiian International Auto Show
4/13/2018 - 4/15/2018
Houston
Houston Auto Show
4/5/2017 - 4/9/2017
Indianapolis
Indianapolis Auto Show
12/26/2017 - 1/1/2018
Kansas City
Kansas City International Auto Show
2/28/2018 - 3/4/2018
Las Vegas
Las Vegas International Auto Show
11/24/2017 - 11/26/2017
Los Angeles
Los Angeles Auto Show
12/1/2017 - 12/10/2017
Louisville
Louisville Auto Show
1/19/2018 - 1/21/2018
Miami
Miami International Auto Show
9/9/2017 - 9/17/2017
Milwaukee
Greater Milwaukee International Auto Show
2/24/2018 - 3/4/2018
Minneapolis/St. Paul
Twin Cities Auto Show
3/10/2018 - 3/18/2018
Montreal
Montreal International Auto Show
1/19/2018 - 1/28/2018
New Orleans
Greater New Orleans International Auto Show
3/16/2018 - 3/18/2018
New York
New York International Auto Show
3/30/2018 - 4/8/2018
Oklahoma City
Oklahoma City International Auto Show
3/9/2018 - 3/11/2018
Oklahoma City
Oklahoma State Fair Auto Show
9/14/2017 - 9/24/2017
Omaha
Midlands International Auto Show
1/18/2018 - 1/21/2018
Orlando
Central Florida International Auto Show
11/23/2017 - 11/26/2017
Philadelphia
Philadelphia International Auto Show
1/27/2018 - 2/4/2018
Phoenix
Arizona International Auto Show
11/23/2017 - 11/26/2017
Pittsburgh
Pittsburgh International Auto Show
2/17/2017 - 2/20/2017
Portland
Portland International Auto Show
1/25/2018 - 1/28/2018
Providence
Northeast International Auto Show
2/9/2018 - 2/11/2018
Richmond
Virginia Motor Trend International Auto Show
2/16/2018 - 2/18/2018
Rochester
Rochester International Auto Show
3/1/2018 - 3/4/2018
Sacramento
Sacramento International Auto Show
10/20/2017 - 10/22/2017
Saint Louis
Saint Louis International Auto Show
1/25/2018 - 1/28/2018
Salt Lake City
Utah International Auto Expo
1/12/2018 - 1/15/2018
San Antonio
San Antonio Auto & Truck Show
11/9/2017 - 11/12/2017
San Diego
San Diego International Auto Show
12/28/2017 - 1/1/2018
San Jose
Silicon Valley International Auto Show
1/4/2018 - 1/7/2018
Seattle
Seattle International Auto Show
11/9/2017 - 11/12/2017
Spokane
Spokane International Auto Show
2/9/2018 - 2/11/2018
Tampa
Tampa Bay International Auto Show
11/17/2017 - 11/19/2017
Toledo
Greater Toledo Auto Show
2/8/2018 - 2/11/2018
Toronto
Canadian International Auto Show
2/16/2018 - 2/25/2018
Tulsa
Tulsa Auto Show
4/13/2018 - 4/15/2018
Vancouver
Vancouver International Auto Show
3/28/2018 - 4/1/2018
Virginia Beach
Hampton Roads International Auto Show
1/12/2018 - 1/14/2018
Washington
Washington Auto Show
1/26/2018 - 2/4/2018