Contents:

---
Auto Shows of North America (ASNA) is a committee of Automotive Trade Association Executives. The Mission of ASNA is to be the industry resource for auto show information and education, and to provide a network for communication between show executives, manufacturers, other industry affiliates and media.
---
Role of Product Display Specialists changes over time, now important part of auto marketing
As much as the vehicles they work with have changed, so has the role of today's product display specialists, the people that an increasingly sophisticated and knowledgeable auto show attendee first goes to for answers.
Yet even though the training they receive on a vehicle might rival that of a sales representative, they're not at the auto show to sell, says Geff Phillips, executive vice president at Gail & Rice, an agency that may have as many as 500 personnel on assignment during a busy season.
And that's the point, says Phillips.
"Product display specialists are seen by the public as an unbiased information source," he says. "One reason is that the typical show attendee comes to compare vehicles. They are self-directed and want to compare various vehicles, which means they need product information but without the pressure of a sales person."
Former actor/model Stacey Riley says the role of a Product Display Specialist has dramatically changed over the years.


With a full week of training in hand, product display specialists like Stacey Riley typically field a flurry of questions, most of which are intended to narrow down a consumer's choice.
"They already do a lot of research before they come to the event," says Riley, who hops from show to show from a base just outside Fort Worth, Texas. "Our role is to help them with additional information they may need."
Riley's "season" begins around August or September with a one-week trip to GM University in Auburn Hills (she currently works with the Chevrolet brand) where her and her colleagues are paid to learn the basics of the year's new product line.
"We talk to GM reps and test drive the new products," says Riley. "It's very hands on."
At Gail & Rice, which has been booking personnel for auto shows since it did for Chevrolet in 1954, the process of hiring a product display specialist is ongoing.
"We receive a lot of photos and resumes from individuals," says Phillips, who says the company has weekly reviews of potential workers with a diverse background—even retired engineers are among the candidates Gail & Rice has hired.
"We look at the ability to present, but we're also looking for a diverse group of people," he says. "Whether it be ethnicity or age or other characteristics, we want the product display specialists to reflect the lifestyle of the vehicle and also the consumers themselves." Or the needs of the consumer, which is one reason Gail & Rice will hire product display specialists conversant in languages other than English (Spanish, Japanese, and even American Sign Language are examples).
Many auto show organizers recognize the need for product display specialists to "recharge the batteries" in providing a break room, something people like Stacey Riley appreciate. "It's nice to be able to step away from the floor for even a few minutes," she says.
But beyond the "tired feet" syndrome, separating out "corporate approved" information from the multitude of other sources is also something the product display specialists work hard at doing.
And then there's the inevitable inappropriate comments that are directed to them, although those are becoming fewer and fewer as product display specialists move to more "business attire" and away from the sequined gowns and lounge-wear that was prevalent in the early years. Those who do "step over the line" are at first gently dismissed, then addressed by other team members; if they persist, security is summoned.
In Europe, which is, after all an entirely different culture, professional models are often used as what might appear to be "accessories" to the vehicles, although the information booths are largely staffed by personnel with business attire.


Things are "different" in Europe, as evidenced
by these photos of models at the Geneva show.
Riley, a former model and actor who began working with Gail & Rice 15 years ago, agrees with Phillips that the industry has seen its share of changes.
"We used to be given a script and told to memorize it," she says. "And we weren't allowed to answer questions other than what was on the script."
Today her role includes providing more in-depth knowledge. And sometimes, "unlearning" what a consumer thinks they already know.
"They may have heard something that has them believing a vehicle will be available sooner than it really is," says Riley. "Or they may have read something else from some other source. Our role is to give them the most current information possible."
Even then, there's the inevitable "stupid questions" that product display specialists find themselves fielding. Number one on the list: "Do you come with the car?"


---
Czarnowski takes best in show at 2004 exhibitor show
Czarnowski Exhibit Service Specialists
was honored in March with the "best of show" award at the 2004
National Conference for Exhibit and Event Marketing
in Las Vegas.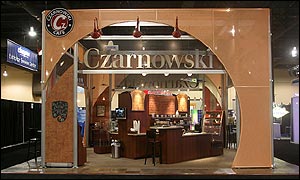 Czarnowski's "best in show" display.


Czarnowski, a new ASNA partner, is one of the largest privately-owned, full-service exhibit companies in the nation, and serves the MINI division of BMW among other national clients. The 50-year-old company took top honors in the 800 square feet and higher category at the show.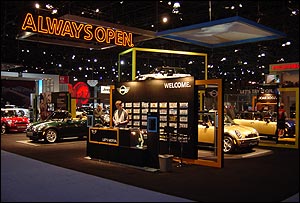 One of Czarnowski's clients is the MINI division of BMW.


The award is granted annually to the exhibit that most exemplifies superior presentation, innovative design and advanced technology. All elements of the winning booth effectively displayed Czarnowski's full line of services, from tradeshow marketing, design, production, logistics and in-house I & D services, according to company president,
Mark Nagle
.
The company's facilities in Chicago, Las Vegas, Atlanta, New Orleans, Orlando, San Francisco, New York and Los Angeles have more than 1 million square feet of manufacturing and storage space. It also provides show labor and support services in 35 cities nationwide.


---
Did any victory smell as sweet?
Claims against the San Diego International Auto Show that organizers had violated the civil rights of men by giving away chocolates and roses to women on Valentine's Day 2002 have been thrown out by a three-judge panel in the state's 2nd Appellate District.
Los Angeles consumer attorney Morse Mehrban had also argued that the action broke California's unfair and illegal business practice law.
"It was nonsense," said Edward Gartenberg, a partner at Thelen Reid & Priest LLP representing Motor Trend Auto Shows Inc., a division of Primedia Inc.'s consumer automotive group.


---
Baltimore on a steady growth curve with new venue
Three years into a new venue, the Baltimore
2004 Motor Trend International Auto Show
continues to gain momentum, says
Peter Kitzmiller
, president of the
Maryland New Car and Truck Dealers Association
under which the event is organized.
GM's popular "Autonomy" display was one of the crowd-pleasing features at the Baltimore show.


Indeed, with attendance up at least 10 percent for those three years running, a decision to move into the
Baltimore Convention Center
(with twice the space as the show's previous fairground location) has made all the difference.
"We've got a lot more concept cars," says Kitzmiller, who adds that the 2004 event was no exception to earlier years.
Concept highlights this year included the Mustang GT Coupe, a vehicle inspired by the Mustang 1 concept of the 1960s that is said to embrace Ford's design direction for the next-generation of Mustang. Beginning with a significantly modified Ford Thunderbird rear-wheel drive architecture, the concept accommodates a signature 400-horsepower Modular 4.6-liter V-8 engine.
Cadillac's SRX Black Diamond concept is designed to bring the performance and utility of the SRX to the ski hill and other active lifestyle pursuits (although snow is clearly where it's home). The vehicle, with a 330-horsepower 4.6-liter Northstar V-8, boasts an all-wheel drive system with 50/50 torque split—until, that is, the system senses slippage. Full-function traction control reduces slippage by applying brake pressure and managing engine torque when necessary.
Chevrolet Colorado XTREME, a 2WD version of the new truck, may hint at several appearance packages and attachments to come in production versions.
GMC Yukon AT4 marketers call the all-terrain truck a "ski SUV," one notable feature being a modular pull-down sliding roof-rack system developed by SportRack. The vehicle also has a unique cargo system that can be slid over the vehicle's tailgate glass, then pushed back onto the roof.
Highly customized "tuners" continue to be a popular feature, with Baltimore's "Tuner Salon" continuing the trend.


Additional show features included appearances from a number of Baltimore Ravens football players and an increasingly popular "tuner" display.
Kitzmiller says marketing this year's show took a slightly different emphasis in that organizers used more television than they have in the past.
Another highlight of the show was the inaugural Charity Preview, which this year was held in support of the Maryland Shock Trauma Center. "We realize the importance of giving back to the community," says Kitzmiller in announcing a $75,000 donation from the Maryland New Car and Truck Dealers Association.


Profile: Motor Trend International Auto Show (Baltimore)
Date:
Jan. 15-19, 2004

Place:
Baltimore Convention Center

Exhibit Space:
301,000 square feet

Tickets:
Adults, $10; Seniors (62 plus), $6; Military, $6; Children (7-12) $4; under 6 free

Show Hours:
Thursday, noon-10 pm; Fri-Sat, 10 am-10 pm; Sun-Mon, 10 am-7 pm

Show Contact:
Peter Kitzmiller, ATAE
President, Maryland New Car & Truck Dealers Association
MNCTDA@MNCTDA.org, 410.269.1710

Show Website:
www.motortrendautoshows.com/baltimore

Discount Coupons:
$1 off on Web site
---
California show poised for growth in strong auto market
To say there's a "buzz" about the
California International Auto Show
(CIAS) would be an understatement, indeed.
"The stars do seem to be aligning for us," says a smiling John Sackrison, executive director of the Orange County Auto Dealers Association and co-director of the CIAS. "We have a strategic plan, the support of two strong dealer associations, and a professional and experienced team of communicators which have committed to helping us get to 'the next level.'"
For the CIAS, the "next level" means becoming an auto show of significance (in the eyes of manufacturers and press) with annual product introductions and industry announcements for the auto show season ahead.
"Among our strongest assets, we believe, are our show dates, and being located in the top automotive market in the country," says Todd Leutheuser, executive director of the Southland Motor Car Dealers Association and co-director of the CIAS. "The auto show season starts here in Southern California, and we can help set the tone for the year ahead."
And to help jump start the season and the rigorous schedule of 65 North American auto shows, the CIAS two years ago initiated a kickoff celebration at Ralph Brennan's Jazz Kitchen Café Downtown Disney. The event, an "opening day," of sorts, has since become a tradition for many, and has been attended by representatives of manufacturers, exhibit houses, automotive media, production companies, other auto show partners, and even executives from other auto shows. It's also an opportunity for CIAS organizers to thank manufacturers and other industry guests for supporting the show.
One manufacturer which took full advantage of the uncluttered dates and enviable strong luxury market was Volkswagen of America, which used the CIAS as its North American launch point for the new luxury Phaeton.
"The California International Auto Show was the perfect locale for Volkswagen to launch its first entry in the luxury car segment," says VW Auto Shows & Exhibit Manager Kyle Richard. "When we looked at the timing of the show, the fantastic venue, all located in our biggest market… it really was an easy decision."
Another key events at the 2004 show was the West Coast Automotive Design Forum, a joint effort of the CIAS and the Motor Press Guild, one of the oldest motoring press organizations in the country. Facilitated by Detroit-based automotive journalist John McElroy, the event featured several design luminaries, including Henrik Fisker, Aston Martin design chief; Frank Saucedo, director of design for GM's 5350 Studio; Tom Matano, former chief designer for Mazda and now director of design at Academy of Art College; Eddie Paul, noted car designer of the "Fast and Furious" movie franchise; and Jeff Teague, president of Teague Design, Inc.
"This was an important event for us," says Sackrison. "We're located in the midst of the world's automotive design hub, and feel that the annual West Coast Automotive Design Forum, along with the CIAS/Motor Trend Design Contest, are features that will help our own development, but also provide excellent press opportunities for manufacturers."
Thanks to the heart and ingenuity of Pinewood Derby creator Don Murphy, more than 100 million Cub Scouts worldwide have experienced the thrill of automotive design since 1953. Murphy, above left, was honored, along with Vic Doolan, president, Volvo Cars N.A., at the Automotive Industry "Good Scout" Awards by Charlie Vogelheim, above right, lifetime Boy Scout and editor of the Kelley Blue Book.


CIAS was also host to the annual Automotive Industry Award luncheon, also known as the "Good Scout Award." This year's event honored Vic Doolan, president and CEO of Volvo Cars of North America, as well as Don Murphy, creator of the Pinewood Derby event for the Boy Scouts of America. Both were honored for their tremendous contributions to youth and community programs. Previous winners have included Toyota's Don Esmond and Nissan's Jed Connelly.
A new auto show attraction for the 2004 season was the first Ride and Drive event developed and hosted by the Skip Barber Racing School's Special Projects Group. Both Ford Motor Company and Volvo Cars took advantage of the unique opportunity to have professional drivers guide consumers (auto show attendees) through high speed turns, hard braking and even potholes and speed bumps as they put vehicles through their paces (see upcoming feature on the Skip Barber program in The Auto Show Report.)
Both Sackrison and Leutheuser, along with the joint venture between their respective associations, are continuing to build awareness for not only the CIAS, but the surrounding area as a destination.
Consider the obvious: Disneyland is literally across the street from the Anaheim Convention Center and the show is also within easy reach of some of the finest Pacific Coast resorts in North America, including the Montage, Ritz-Carlton and St. Regis. Organizers hope these destinations will continue to make attending the first major market show of the season a natural fit in many schedules.
Both Sackrison and Leutheuser say the work to build momentum continues year-round beyond meetings with manufacturers.
"It's also about partnering with local business and everyone associated with the automotive industry to build awareness and continue with the great things that are already being done," says Sackrison, who was recently appointed to the advisory board of the Anaheim/Orange County Convention & Visitors Bureau.
Leutheuser agrees.
"Southern California is a great destination," he says, "and we're in the number one automotive market in the country, if not the world. If we're able to continue capitalizing on that fact, CIAS will continue to grow and our manufacturing partners will benefit even more than they do already."


Profile: California International Auto Show
Date:
Oct. 29-Nov. 2, 2003

Place:
Anaheim Convention Center

Exhibit Space:
525,000 square feet

Tickets:
Adults (13 plus) $10; Seniors (62 plus) $6; Children (7-12) $5 (under 6 free)

Show Hours:
Wednesday 4 pm-10 pm; Thursday and Friday 10 am-10 pm; Saturday 9 am-10 pm; Sunday 9 am-7 pm

Show Contacts:
Todd Leutheuser, ATAE
Executive Director, Southland Motor Car Dealers Association
leutheuser@aol.com, 562.595.4326

John Sackrison, ATAE
Executive Director, Orange County Automobile Dealers Association
jsackrison@ocada.org, 714.424.6090

Show Website:
www.motortrendautoshows.com/anaheim

Discount Coupons:
$2 off on Web
---
Tampa Bay maxes out display space with 'sold out' show
It may be one of the two nicest words an auto show organizer could hear.
Sold out.
For George Wilson III, executive director of the Tampa Bay International Auto Show (TBIAS), it's also a reality, with every one of the 225,000 square feet available in the Tampa Convention Center taken up with a multitude of displays from more than 40 manufacturers.
Certainly, Wilson is happy.
But so is Ronald McDonald and the Ronald McDonald House Charities, the organization that the Greater Tampa Bay Automobile Dealers Association teamed up with in the form of discounted admission coupons. All tickets sold through the promotion went to assist the operation of the Ronald McDonald House Charities of Tampa Bay.
The House is a "home away from home" for families who must travel outside their communities to seek medical attention for a child. As such, it provides a welcome refuge from the hospital for families of seriously ill children. The home-like atmosphere is made possible with comfortable beds, kitchen, laundry facilities and even toys for sibling children.
Most attenders wouldn't (or couldn't) be seen driving them, but a number of exotics were featured at the Tampa Bay International Auto Show. It doesn't hurt to look . . .


Yet this is, after all, an auto show, and attendees got a chance to see a variety of new models, including the Aston Martin Vanquish, Chevrolet Aveo, Nissan Titan, Porsche Cayenne, and Volkswagen Touareg vehicles. Concepts shown included the Chevrolet Cheyenne and Ford 427. And then there's the exotics.
Tampa Bay area show attendees got a good look at the all-new Lamborghini Gallardo, fresh from its debut at the Geneva Motor Show, plus several additional models from the Italian maker.
In addition, several Maserati and Ferrari vehicles were also on hand to remind even those whose budgets might not accommodate the purchase that it never hurts to dream.
Not to be left out of the luxury category were Rolls-Royce, Bentley and Lotus.
Other show pleasers included appearances by Tampa Bay Buccaneers wide receiver Keenan McCardell and the team's ever-popular cheerleading squad.
The new Corvette, on the other hand, is within reach to more than a handful of show-goers.


For families with children, the highlights included a "meet and greet" with Rug Rat characters and Bart Simpson along with a McMagic Fun Shop performance by Ronald McDonald.
Military minded folks also had a treat at the Tampa Bay show: a special display by the Florida Army National Guard that featured a Hummer and PT tent.
And, of course, there was a "tip of the hat" to Corvette, with a special display honoring the 50th anniversary of the landmark sports vehicle.
All in all, George Wilson says, the 2004 show was one of the smoothest he's experienced.
"We had a very good collection of exhibits and a wide variety of makes," says Wilson. "We were very pleased indeed."


Profile: Tampa Bay International Auto Show
Date:
Nov. 13-16, 2003

Place:
Tampa Convention Center

Exhibit Space:
225,000 square feet

Tickets:
Adults (13 plus), $8; Seniors (62 plus) $4; Military, students, children (7-12), $4; under 6, free

Show Hours:
Thursday & Friday, noon-10 pm; Saturday, 10 am-10 pm; Sunday, 10 am-6 pm

Show Contact:
George O. Wilson III, ATAE
Executive Vice President, Tampa New Auto Dealers Association, Inc.
gowIII@aol.com, 813.837.1114

Show Website:
www.motortrendautoshows.com/tampa

Discount Coupons:
$2 off on Web site
---
'Focal points' and e-tickets set the Toronto show apart
Tom Tonks
, general manager of the
Canadian International Auto Show (CIAS)
, says a series of "focal points" is what distinguishes his event from most others in North America.
"Certainly, we have our share of vehicle introductions," says Tonks, who also manages the hosting Toronto Automobile Dealers Association. Those included some 54 Canadian premiers and three North American debuts, including the Nissan X-Trail SUV which won't be sold at all in the U.S. "But we also have a number of focal points that set us apart."
Those special areas include a portion of the total 850,000 square feet of exhibit space devoted to Classics, Sport Compacts, Light Trucks, and Design Studio.
In Classics, Tonks pointed to an "incredibly diverse" Mustang display that honored the 40th anniversary of the Ford vehicle. The "show within the show" also included a number of classic muscle cars along with those of local clubs keen on displaying their vehicles.
"These were real 100 pointers," says Tonks referring to a collection of vehicles that included a nice selection of Shelby Mustang and other variations of the brand.
Leon Combden, a student at Coventry University in England (pictured with his entry), won the $10,000 first place prize in the World Automotive Design Competition held in conjunction with the Canadian International Auto Show.


Also popular at the show was the Design Studio area, a public offshoot of the Canadian show's World Automotive Design Contest which attracted entries from 90 students at 13 schools and 10 countries.
"It was a very interesting display that showed the different solutions to a series of challenges that were set up," says Tonks.
One of only two internationally-sanctioned OICA events in North America, the Toronto show is the largest consumer show of any kind in Canada (by both size and attendance). More than 1,000 vehicles from 150 exhibitors were on display.
Yet another focal point was headlined the "Sport Compact Revolution," which refers to the growing "tuner" category. A 70,000 square foot display at SkyDome stadium (adjacent to the main Toronto Convention Centre venue) featured some 80 vehicles and an aftermarket services area.
Ian Forsyth, director of marketing at Nissan Canada, with the "only in Canada" X-Trail vehicle, unveiled at the Canadian International Auto Show.


"Those areas were jammed," says Tonks. "It's a demonstration of our commitment to drawing in a new youth audience and it was very successful."
But as popular as the focal points were to a record-breaking Toronto crowd, so was the general display area.
"We had some incredible cars here, including the BMW 6 Series convertible," says Tonks. Other notable exhibitors included Mercedes Benz, with its McLaren SLR vehicle, first seen just months ago at the Frankfurt International Motor Show.
Even so, one of the most popular features of the CIAS had nothing to do with any of the vehicles. Tonks is referring to a growing "e-ticket" phenomenon that he expects will eventually account for one-quarter of all ticket sales.
"It's a convenience to the public and eventually, as more and more use the feature, it will become much cheaper for us to do the ticketing," says Tonks.


Profile: Canadian International Auto Show
Date:
Feb. 13-22, 2004

Place:
Metro Toronto Convention Centre and SkyDome

Exhibit Space:
850,000 square feet

Tickets:
Adults $18, Children (7-12) $6 (under 6 free), Family (2 adults, 2 children) $36, multi-day pass (any two days) $28

Show Hours:
Daily 10:30 am-10 pm, final Sunday 10:30 am-6 pm

Show Contact:
Tom Tonks, ATAE
General Manager, Canadian International Auto Show/Toronto Automobile Dealers Association
tomt@autoshow.ca, 416.407.7472

Show Website:
www.autoshow.ca

Discount Coupons:
$13 Mon-Thurs.
---
New 'luxury loft' has show patrons looking up
While
Ruth Lemmon
acknowledges the 2004
West Virginia International Auto Show
was "extremely well received," the executive vice president of the
West Virginia Automobile and Truck Dealers Association
says some of the vehicles shown reached new heights—quite literally.
Advanced planning and engineering opened up another 15,000 square feet of display space (the "Luxury Loft") for the West Virginia show.


"We were able to open up an additional 15,000 square feet with our Luxury Loft," says Lemmon. "It as an area that we hadn't been able to use before, but with the use of cranes, we were able to use the space."
Show organizers reserved the new space for the latest models from some of the world's most opulent brands, among them Audi, BMW, Jaguar, Land Rover, Lexus, Mercedes-Benz, Porsche and Volvo.
That addition gave the show a total of 110,000 square feet at the Charleston Civic Center and likely contributed at least in part to an upsurge in attendance—9 percent higher than last year.
"We're very happy with that," says Lemmon. "Each year it continues to grow."
Also flying high (over the crowds and more particularly the Chrysler exhibit) was a "flying" PT Cruiser, a helium-filled, radio-controlled three-quarter size replica of Chrysler's successful retro-vehicle.
Highlights of the show included three concepts from DaimlerChrysler—the Chrysler 300C; Jeep Compass and Dodge Magnum. Each of the vehicles is likely to make it into the automaker's lineup, the leap from concept to production becoming increasingly popular at DCX.
In addition to the concepts, several 2005 models were on display for those who "just can't wait" for the showroom tour. They included the Ford Freestyle, Ford Mustang GT and Buick Terraza.
Add to that line up the 2004 models getting rave reviews—the Dodge SRT-10, Porsche Cayenne, Nissan Pathfinder Armada, BMW 5 Series and Toyota Prius—and it was clear why the West Virginia show drew the crowds.
Getting vehicles into the West Virginia International Auto Show's "Luxury Loft" was an uplifting experience.


Even so, Ruth Lemmon says the local media—notably the Charleston Gazette and Charleston Daily Mail newspapers—provided tremendous coverage that kept the show in the public eye throughout the period leading up to and through the event.
"It's one of the things that helps us every year," says Lemmon.
Crowds were also treated to a 40th anniversary celebration of the Mustang, made possible by the area's International Late Model Mustang Club.
In addition to the Mustang display, Smith Company Motor Cars showcased a muscle car exhibit featuring high-performance cars from the 1960s.
Looking to pull some strings? How about tractors?
Larry Koester certainly is. The winner of the 2001 National Tractor Pullers Association Grand National Mini-Modified Championship, Koester was on hand to sign autographs and greet fans at the show. A spokesperson (and supporter) of the Make-A-Wish Foundation since losing both his legs in a farming accident in 1986, Koester earned his first tractor pulling championship in 1997.


Profile: West Virginia International Auto Show
Date:
Jan. 16-18, 2004

Place:
Charleston Civic Center

Exhibit Space:
110,000 square feet

Tickets:
Adults, $7; Seniors (62 plus), $4; Children (7-12), $3; under 6 free

Show Hours:
Friday & Saturday, 10 am-10 pm; Sunday, 10 am-6 pm

Show Contact:
Ruth Lemmon, ATAE
Executive Vice President, West Virginia Automobile & Truck Dealers Association
wvcar@aol.com, 304.343.4158

Show Website:
www.motortrendautoshows.com/charwv

Discount Coupons:
$1 off on Web site
---
Credits/Contacts:
Automotive Trade Association Executives
8400 Westpark Drive
McLean, VA 22102
703.821.7072
703.556.8581 - fax
www.info@atae.info
Don McNeeley, ATAE President
donmc@cjnetworks.com
Jennifer Lindsey, ATAE Executive Director
jlindsey@nada.org
Rod Alberts, ASNA Chairman
ralberts@dada.org
The Auto Show Report
Joe Rohatynski, editor
joe@joepr.com
J.D. Booth, staff reporter
jd@jdbooth.com
Elizabeth Katz, staff reporter
llpa@sbcglobal.net

---
Auto Shows of North America Show Directory
Albany
Albany Auto Show

11/3/2017 - 11/5/2017
Albuquerque
New Mexico International Auto Show
4/13/2018 - 4/15/2018
Anaheim
Orange County Auto Show
10/4/2018 - 10/7/2018
Atlanta
Atlanta International Auto Show
3/21/2018 - 3/25/2018
Austin
Austin Auto Show
4/20/2018 - 4/22/2018
Baltimore
Motor Trend International Auto Show, Baltimore
2/8/2018 - 2/11/2018
Bedford, NH
New Hampshire Auto Show
11/18/2016 - 11/20/2016
Bethlehem, PA
Lehigh Valley Auto Show
3/22/2018 - 3/25/2018
Birmingham
Alabama International Auto Show
4/12/2018 - 4/15/2018
Boston
New England International Auto Show
1/11/2018 - 1/15/2018
Buffalo
Buffalo Auto Show
2/8/2018 - 2/11/2018
Calgary
Calgary International Auto & Truck Show
3/14/2018 - 3/18/2018
Charleston
West Virginia International Auto Show
1/19/2018 - 1/21/2018
Charlotte
Charlotte International Auto Show
11/2/2017 - 11/5/2017
Chicago
Chicago Auto Show
2/10/2018 - 2/19/2018
Cincinnati
Cincinnati Auto Expo
2/7/2018 - 2/11/2018
Cleveland
Cleveland Auto Show
2/23/2018 - 3/4/2018
Columbus
Columbus International Auto Show
3/15/2018 - 3/18/2018
Dallas
DFW Auto Show in Dallas
2/14/2018 - 2/18/2018
Dayton
Dayton Auto Show
2/22/2018 - 2/25/2018
Denver
Denver Auto Show
4/4/2018 - 4/8/2018
Detroit
North American International Auto Show
1/20/2018 - 1/28/2018
Edmonton
Edmonton Motor Show
4/12/2018 - 4/15/2018
Fort Worth
DFW Auto Show in Fort Worth
12/7/2017 - 12/10/2017
Greenville
South Carolina International Auto Show
1/12/2018 - 1/14/2018
Harrisburg, PA
Pennsylvania Auto Show
1/25/2018 - 1/28/2018
Hartford
Connecticut International Auto Show
11/17/2017 - 11/19/2017
Honolulu
First Hawaiian International Auto Show
4/13/2018 - 4/15/2018
Houston
Houston Auto Show
4/5/2017 - 4/9/2017
Indianapolis
Indianapolis Auto Show
12/26/2017 - 1/1/2018
Kansas City
Kansas City International Auto Show
2/28/2018 - 3/4/2018
Las Vegas
Las Vegas International Auto Show
11/24/2017 - 11/26/2017
Los Angeles
Los Angeles Auto Show
12/1/2017 - 12/10/2017
Louisville
Louisville Auto Show
1/19/2018 - 1/21/2018
Miami
Miami International Auto Show
9/9/2017 - 9/17/2017
Milwaukee
Greater Milwaukee International Auto Show
2/24/2018 - 3/4/2018
Minneapolis/St. Paul
Twin Cities Auto Show
3/10/2018 - 3/18/2018
Montreal
Montreal International Auto Show
1/19/2018 - 1/28/2018
New Orleans
Greater New Orleans International Auto Show
3/16/2018 - 3/18/2018
New York
New York International Auto Show
3/30/2018 - 4/8/2018
Oklahoma City
Oklahoma City International Auto Show
3/9/2018 - 3/11/2018
Oklahoma City
Oklahoma State Fair Auto Show
9/14/2017 - 9/24/2017
Omaha
Midlands International Auto Show
1/18/2018 - 1/21/2018
Orlando
Central Florida International Auto Show
11/23/2017 - 11/26/2017
Philadelphia
Philadelphia International Auto Show
1/27/2018 - 2/4/2018
Phoenix
Arizona International Auto Show
11/23/2017 - 11/26/2017
Pittsburgh
Pittsburgh International Auto Show
2/17/2017 - 2/20/2017
Portland
Portland International Auto Show
1/25/2018 - 1/28/2018
Providence
Northeast International Auto Show
2/9/2018 - 2/11/2018
Richmond
Virginia Motor Trend International Auto Show
2/16/2018 - 2/18/2018
Rochester
Rochester International Auto Show
3/1/2018 - 3/4/2018
Sacramento
Sacramento International Auto Show
10/20/2017 - 10/22/2017
Saint Louis
Saint Louis International Auto Show
1/25/2018 - 1/28/2018
Salt Lake City
Utah International Auto Expo
1/12/2018 - 1/15/2018
San Antonio
San Antonio Auto & Truck Show
11/9/2017 - 11/12/2017
San Diego
San Diego International Auto Show
12/28/2017 - 1/1/2018
San Jose
Silicon Valley International Auto Show
1/4/2018 - 1/7/2018
Seattle
Seattle International Auto Show
11/9/2017 - 11/12/2017
Spokane
Spokane International Auto Show
2/9/2018 - 2/11/2018
Tampa
Tampa Bay International Auto Show
11/17/2017 - 11/19/2017
Toledo
Greater Toledo Auto Show
2/8/2018 - 2/11/2018
Toronto
Canadian International Auto Show
2/16/2018 - 2/25/2018
Tulsa
Tulsa Auto Show
4/13/2018 - 4/15/2018
Vancouver
Vancouver International Auto Show
3/28/2018 - 4/1/2018
Virginia Beach
Hampton Roads International Auto Show
1/12/2018 - 1/14/2018
Washington
Washington Auto Show
1/26/2018 - 2/4/2018