Contents:

---
Auto Shows of North America (ASNA) is a committee of Automotive Trade Association Executives. The Mission of ASNA is to be the industry resource for auto show information and education, and to provide a network for communication between show executives, manufacturers, other industry affiliates and media.
---
ASNA Summer Meeting promises lively discussions, networking opportunities
Excitement is building for the upcoming Auto Shows of North America annual summer meeting--especially among those who have experienced the benefits associated with this key networking opportunity.
The July 13 event, to be held in conjunction with the 2004 ATAE Summer Conference at The Broadmoore Resort and Spa in Colorado Springs, will feature keynote speaker Jason Vines, vice president of communications for DaimlerChrysler's Chrysler Group. The well known and experienced public relations professional, who has also worked with Ford Motor Company and Nissan, will discuss the factors that go into manufacturers' decisions for where product introductions are held. Other guest presenters include: Gary Glenn, president and CEO, NewsWire One, Inc., Curt Van Loon, president, Adstrategies, and Timothy Cunnane, partner, Palmer & Cay, Inc.
ASNA Chairman Rod Alberts, executive director of the North American International Auto Show, will moderate the discussions.
Curt Van Loon, above, president, Adstrategies, will present "An Affordable Survey Option" (real time, statistically-correct auto show surveying), while insurance expert Timothy J. Cunnane, partner, Palmer & Cay, Inc., below, will address the hot topic of auto show liability insurance and results of the ASNA insurance survey.
Also featured will be discussions and presentations on insurance matters, plus the findings of an ASNA-sponsored survey. Attendees will hear more about how various potential group purchasing opportunities made possible with ASNA membership.
Clay Hepler, who runs the Greater Toledo Auto Show, says the opportunity to learn from other show organizers is a key reason for his attendance.
"We've picked up a number of things during casual conversations on what works and what doesn't," says Hepler. "The ASNA group represents an opportunity to share that type of information."
Auto manufacturer representatives like Bill Ames, director, auto shows and exhibits, General Motors Corporation, are also seeing the benefits of attending.
"The ASNA Summer Meeting is critically important to us at General Motors," says Ames. "It gives us a venue to communicate strategic plans to a large number of auto show promoters all at once. This opportunity to deliver a unified message is extremely efficient and effective."
And that's not just GM talking.
"The ASNA meetings are very valuable to us on a number of levels," says Donna Walter, auto show manager at Toyota Division.
"First, they provide a very good networking opportunity, which is always something that's positive. Secondly, we're able to help with a deeper understanding of why manufacturers choose certain shows to introduce or exhibit concept cars. The ASNA meetings are an ideal environment to have those kinds of discussions."
GM's Ames clearly sees the benefit of putting the ASNA Summer Meeting on his calendar. "Anyone in a similar position of wanting to make this kind of communications impact should really plan on being there."
The ASNA Summer Meeting wouldn't be possible without the support of its sponsors who commit more than financial resources, but also become active participants in important discussions directly affecting auto shows today.
Sponsors of this year's meeting include:
For more information on the ASNA Summer Meeting, please contact Joe Rohatynski at 313.378.6570 or
joe@joepr.com
.
Note: the ASNA program opens with a Welcome Reception on Monday, July 12, from 6:00 - 8:00 pm. Meetings and roundtables are on Tuesday (registration/breakfast starts at 7:30 am) from 8:00 am - 5:00 pm followed by an ASNA reception from 5:00 - 6:00 pm.


---
Photographers bring auto show images to the world
Working long days that blur into night. Jockeying for space (sometimes shoving) with thousands of other media types at press conferences. Lugging around tons of camera equipment across acres of show floor without dislocating a shoulder. These are what define the world of the auto show photographer, a competitive job that keeps them running and coping with an auto show's unique set of challenges.
"When you say 'I'm an auto show photographer,' people have this preset idea that you are going to a show to goof around and have fun all day," says Jeff Orlando, president of Glendale, Calif.-based Convention Photo by Joe Orlando Inc. "The reality is, you work your (butt) off around the clock."
As Steve Fecht explains, the quest for 'something different' produced this unique shot of the Buick LaCrosse unveiling at the Chicago Auto Show.


Orlando and his staff typically attend about 60 national auto shows, shooting images for the major auto manufacturers, including BMW, Mercedes, Toyota and Lexus. Orlando's images, featuring automobiles, specific vehicle parts, or show exhibits, can typically be found in trade show weeklies.
Many times, shooting auto shows presents special challenges, Orlando says.
"It's like being in a M.A.S.H. unit; you don't know when the incoming is arriving," he says. "The auto show environment is conducive to displaying cars. It isn't conducive to photography, but you have to give clients a high quality of work."
And you have to be fast at it, says Steve Fecht, owner of Steve Fecht Photography in Northville, Mich. Fecht lends photographic, image editing and consulting expertise to General Motors Corporation during the major shows like Detroit, Los Angeles, Chicago and New York.
Fecht, a former photography director at The Detroit News, works with photographers Tom Pidgeon, John F. Martin and Joe Polimeni in delivering images of GM vehicles to the company Website so that other automotive journalists and editors have access to them by deadline.
Longtime NAIAS photographer Len Katz is always ready with his camera to capture the cars and the stars. In this case Katz shot Green Bay Packers fan Don Hansen, executive director of the Milwaukee International Auto Show, who attended a manufacturer press party in Detroit. Below, at NAIAS Supplier Preview Days, Katz illustrates the active interaction between the crowds (composed mostly of engineers) and the cars on display.




"Speed is the challenge," says Fecht. "It's the deadline pressure. It's like working at a newspaper or wire service. We help people make deadlines."
And while some newspaper photographers can pack up and leave when media days end, photographers who work for a sponsoring auto dealer association continue their work through the entire duration. Such is the case with Len Katz, chief photographer for Detroit's North American International Auto Show (NAIAS).
Nearing 27 years in photography and seven years as photo chief of the Detroit show, Katz, who is studio manager of G-Photographic in Oak Park, Mich., says a challenge to the show is perpetually finding new ways of doing something he's done for years.
While Katz shoots concepts, production vehicles and exhibits for the NAIAS, with the help of photographers George Nagher and Mark Houston, he also must keep track of the show chairmen, executives and local dignitaries.
"The challenge is trying to come up with new and creative images, trying to keep them fresh," Katz says. "The cars are the stars, but I also have to focus on the people factor."
Steve Fecht says coming up with creative images sometimes means going beyond getting the most obvious shot.
"We look for different angles and different vantage points, using a lens we might not have considered," he says. "For the Buick LaCrosse unveiling in Chicago, we went up into the rafters of McCormick Place. We thought it would be a little different. One of the photographers shot from on top and I shot from straight on. We try to do something different. Something fresh. Our clients deserve nothing less."


---
Motor Trend Auto Show Summit brings ideas, feedback to the table
Motor Trend Auto Shows
calls it a "Summit" and for the directors of the 17 shows produced by the Primedia-owned organization, it really is a pinnacle event.
"It's partly a celebration of the past season," says John Marriott, Motor Trend's general manager.
But as Marriott explains, the celebratory nature of the three-day annual event quickly gives way to some hard-core assessment of what worked (and what could be improved), incorporating a benchmarking system Motor Trend introduced last year. In that system, each of the 17 shows is able to see how their particular event rated against the others in the Motor Trend network.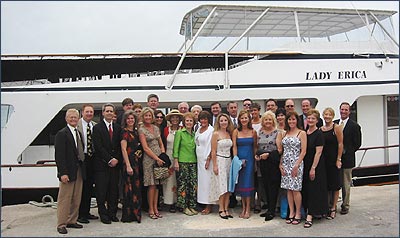 Executives from virtually every one of Motor Trend Auto Shows' 17 events gathered in 2003 (as they do every year) to exchange ideas and hear about upcoming plans.


"It's a 'best-in-class' comparison," says Marriott. "We're doing it without violating confidentiality behind the numbers of any particular show, but it's a way for show directors to identify opportunities for improvement and raise the bar on their own performance as compared with other shows."
Motor Trend has devised a number of measurements that Marriott says gives show directors an objective argument they can apply to negotiations with partners such as media.
"We measure the return on investment for things like media expenditures," says Marriott.
Because the Motor Trend operating model includes a newspaper sponsorship, one of the benchmarking measurements is how much support the show is getting in that area.
"We know what the average of the other 16 shows are getting," explains Marriott. "Armed with that information, it gives our executives a much more objective argument to use in talking with the newspaper."
One of the newer benchmarking categories is the density of a show, a somewhat complicated measure involving three distinct numbers: the number of paid visitors coming into a show, the square footage of the show and the hours of operation.
From left, Motor Trend Auto Show's Steve Freeman (director, event management) networks with Stephen Smith, executive director of the San Jose International Auto Show, and John Marriott.


"What that does is take into account a number of different things, and not only attendance," says Marriott. "Is it the entire week or three or four days? We get an objective measurement of how crowded the show will appear to be to an exhibitor."
Armed with that information, show directors are able to make adjustments--perhaps adding hours if needed--or using promotions to move the crowds to other times.
Craig Bickmore, executive director of the Utah Automobile Dealers Association, which owns the Utah International Auto Expo in Sandy, UT), says getting the perspective that comes from exposure to other Motor Trend auto shows is a big reason he attends.
"The information is a big plus for us. It gives us baseline information that shows us where we stand and allows us to become even more efficient at what we do."
And Barbara Miller, executive director of the Central Florida Auto Dealers Association, says her Orlando-based auto show benefits from the in-depth discussion of new ideas and trends that ensues.
"We find it very, very beneficial."
Marriott says the discussions may also involve issues that are raised by exhibitors.
"Last year we saw a push back from some of the manufacturers on the issue of drayage costs," says Marriott, in an interview shortly before this year's event. "As a result, we made some changes; we'll be talking about how those worked out as far as additional support from the exhibitors."
Marriott says the summit also serves as a jumping off point for negotiations with general contractors, with more than half the events currently out to bid. "We use the bid process to negotiate those rates down," says Marriott, who adds that Motor Trend represents a unique opportunity for individual shows.
"We consider our auto shows as part of a network and we sell sponsorships on that basis," he says. "Those who are looking for an efficient buy can write one check and be in multiple markets, which can be an advantage over point to point selling of sponsorships."
The "network" advantage extends to exhibit managers at the manufacturers, says Marriott.
"When it comes to planning a season, they can cover a number of shows in one phone call."
Motor Trend's Summit also includes extensive discussions on show content, the talks that last year produced various features surrounding the 40th anniversary of the Mustang and the 50th anniversary of Corvette.
It's an area in which Motor Trend excels, with its wide variety of automotive-related publishing titles and extensive archival material.
"We leverage that material to create features," says Marriott. "If there's something on the calendar, or there's a particular area of emphasis, like the muscle cars or some other feature, we can build around that."
Even then, the Motor Trend Auto Show Summit is more than creating ideas. It's about listening.
"We're looking for high level direction," says Marriott. "It's tapping into our clients as to what went well last year, what we need to improve on, and what they're looking for to keep our service offering fresh. It's true that we put a lot of effort into the event, but we take away a lot from the Summit ourselves."


---
From the show to show room, Cinci show drives dealer traffic
Ace Ammann
uses just one word to underscore the emphasis of the
2004 Cincinnati Enquirer/Post Auto Expo.
Product.
"This was a different type of year in that we had very few concept cars," says Ammann, executive director of the Greater Cincinnati Auto Dealers Association, owner of the event.
But that's not necessarily a bad thing.
It's about vehicles … lots of them … at Cincinnati's auto show event.


Indeed, there's strong evidence among the dealer community that attendee interest in the Auto Expo translated into showroom traffic.
"We don't do formal surveys, but there was definitely a spike directly after the show," says Ammann.
It's a view that's shared by show producer Chip Hart, of Hart Productions, which has managed the show since 1988.
"The reports that we had from dealerships in terms of traffic and overall sales during and following the show were better than in the last half a dozen years," says Hart.
Still, shows require a consistent marketing effort, and Hart says a strong relationship with the lead show sponsors -- the city's two major newspapers -- certainly helped in keeping attendance high, as did a repeat effort to drive advance sales through the Cincinnati-based Kroger supermarket chain, which has some 2,500 stores in 32 states.
As Ammann explains, the relationship with Kroger, which began two years ago, resulted in better than one-third of attendees buying their tickets at the supermarket checkout. "We set all time attendance records that way."
Luxury vehicles were, of course, highlighted at the Cincinnati show.


Cincinnati has largely set aside most of the non-automotive related attractions that other shows have used to build attendance and interest, the reason being one of the most practical: space.
"We sell all the space that we have available," notes Ammann. "Anything else would take away from that."
Next year's show will produce even further challenges as the Cincinnati Convention Center undergoes an expansion and renovation project. "We'll lose some space during the construction period, but in 2006 we'll have an additional 80,000 square feet to offer."
In the meantime, producer Chip Hart continues to focus on actively marketing the show, through sponsorship programs that included a one-hour live from the floor TV show done by WCPO, the ABC affiliate, and a show section that appears a week before the show in the Cincinnati Enquirer/Cincinnati Post (the newspapers operate under a joint operating agreement).
Ammann says attendees gave particular attention to vehicles in the upscale luxury market, with high interest in models such as the Chevrolet SSR, the Cadillac XLR and the Ford GT.
"Those were very popular with our crowds."


---
Keeping 'em happy in Kansas City
As
Bill Morrison
talks about the
Greater Kansas City International Auto Show
, the message is clear: this is a show that's laser focused.
Indeed, you won't find much that doesn't advance the membership aims of the Automobile Dealers Association of Greater Kansas City, the organization for which Morrison serves as both executive vice president as well as producer/director of the show.
Kansas City's Bartle Hall works well as an auto show venue, particularly due to its "one entrance" feature that allows show organizers to position an information kiosk that's accessible to all …


And that's the way Morrison would have it.
"We have no vendor booths at all at the show," says Morrison, indicating that anything less than that would simply take away from an emphasis on vehicles.
"We have every dealer in our market participating in the show and every product," notes Morrison, who adds that the Kansas City show, while not billed as a "selling show" per se, does allow, under Missouri law, sales to be made.
It's also a popular event--2004 was second only to 2003 in attendance.
Morrison says the boost in attendance was most likely due to a doubling of print advertising that resulted from bringing the Kansas City Star as a sponsor.
"That allowed us to advertise more concept and feature cars as a draw," says Morrison.
Another factor in the increased attendance was a decision to distribute the show's program in the Sunday edition of the newspaper, which increased circulation of the program from 50,000 to 300,000.
This year was also one in which the show's VIP preview party expanded, the first year the event was held in the exhibit hall. Show organizers opened the VIP event to the 114 automobile dealers in the association. Each dealer could invite five couples or 10 people to the event.
While having the preview party in the exhibit hall was one reason for shortening the show by one day, from five days to four, Morrison says the scheduling change also gave show organizers more set up time.
"It worked out perfectly for us," says Morrison, who welcomed more than 1,200 guests, including media and factory representatives along with those invited by the dealers.
Morrison says the show itself benefits from the characteristics of Bartle Hall, where the show is held. Its single entrance gives show organizers an opportunity to provide a single point of contact for the show. "If anyone has a question concerning exhibit space or anything else related to the show, we are right there to provide the answer."
The venue is also ideal from Morrison's perspective.
… plus Bartle Hall features a "no pillars, no columns" structure that maximizes vehicle display opportunities.


"We have very fine facility that's ideal for an auto show," says Morrison. "There are no pillars or columns--the roof is suspended by an outside structure--and we have three loading docks; it's easy to set up and we have outstanding lighting. Very few exhibitors use supplemental lighting for their displays."
For Morrison, who produces the show himself, running the association is a third career; he previously owned a Ford dealership and prior to that worked for the manufacturer, something he says helps in putting together a floor plan that is aligned with what exhibitors want.
"We accommodate GM, Ford and Chrysler's global concept, which groups the products together, something manufacturers like," says Morrison. "And it makes sense for similar products to be in the same vicinity, hence Mercedes and Jaguar together and Toyota, Nissan and Honda nearby."
While he admits his approach might seem autocratic to some, Morrison says he's managed to keep everyone happy in the process. "It makes sense for knowledgeable people to layout the show floor plan."


Profile: Greater Kansas City International Auto Show
Date:
Mar. 3-6, 2004

Place:
Bartle Hall

Exhibit Space:
400,000 square feet

Tickets:
Adults $8, Children (8-12) $4 (under 7 free)

Show Hours:
Every day (except Sunday): 10 am-10 pm; Sunday: 10 am-7 pm

Show Contact:
William Morrison, ATAE
Executive Vice President, Automobile Dealers Association of Greater Kansas City
wmorri4202@aol.com, 913.345.8970

Show Website:
www.kansascityautoshow.com

Discount Coupons:
$1 off Thursday or Friday.
---
Super Bowl, super show – both were winners in Northeast
In discussing the results of the most recent
Northeast International Auto Show
,
Jack Perkins
starts out by talking attendance, but combines the comment with a couple of "you might notice" statements.
"Attendance was very good," says Perkins, executive vice president of the Rhode Island Automobile Dealers Association, which sponsors the Motor Trend show.
"But you might notice that February 1 (the last day of the show) was Super Bowl Sunday. And you might recall who won the Super Bowl – the New England Patriots."
Perkins says he's delighted that the home team took football's highest honor. His only wish might be that the timing wasn't quite the same.
"It does affect things," says Perkins. "However, it's the second year where we've had the exact same scenario, where the auto show was at the same time as the Super Bowl. And both times the Patriots were in it and won it."
Perkins does say the auto show wasn't affected as much the second time around, judging by the attendance.
"There was some slippage this year," he says.
The biggest adjustment was in making sure the breakdown of exhibits would be handled smoothly. Perkins says closing the doors at 5 pm gave workers enough time to get the vehicles out of the Rhode Island Convention Center before the 6:30 pm Super Bowl kickoff.



Hot concept cars such as Ford's Mustang Shelby and GT
were stars at the Northeast International Auto Show.


Aside from the somewhat awkward timing with football, Perkins says there were other factors in favor of the Northeast International Auto Show, especially when it came to vehicle unveilings.
"Because we follow Detroit, we were able to get vehicles that had been held up for that show," says Perkins, noting that the earlier Boston show in November wouldn't have had the same benefit.
Faced with limited space of just 120,000 square feet, Perkins and his team have concentrated on selling sponsorship opportunities as an additional source of revenue for the show, something he says benefits everyone.
"The sponsors can be within a couple of categories, either auto-related, or in an area that is of interest to the public," he says. "Basically, they're buying the crowd -- which you build into your media buy." Those sponsorship mentions then find their way into most auto show advertisements. "It works out very nicely," says Perkins.
One reason for that is the strong relationship dealers have with local media.
"We're in a good medium-sized market and dealers are clearly important to the media," says Perkins. "That's the case 365 days a year. The media knows that and they're very good at covering the show. They work with us and in some cases they're sponsors of the show."
Media, he says, also see the inherent value of the show itself.
"It has an impact on consumers throughout the year," says Perkins. And despite the awkward timing (with the Super Bowl), the auto show does signal the beginning of the traditional spring selling season.
"It's before the car market starts heating up, right after Christmas, when things are quieting down," says Perkins. "It's a good way to get the market kicked off and the media is pretty enthusiastic about helping us to be a successful show."
The character of the show itself, Perkins says, is one that is focused on the vehicles.
"Because there are so many demands on everyone's time, something like this serves the purpose even better than it used to," says Perkins. "There are so many models out there, so going to a show is the most effective way for a consumer to try to determine what they're looking for. For the vast majority of the buyers, it makes a great deal of sense to go to the show. That's probably the biggest reason shows in general are growing in terms of public acceptance and attendance."


---
Giving show goers a purpose
Past years at the Greater Toledo Auto Show have shown
Clay Hepler
one thing: the event attracts some serious car shoppers.
As executive vice president of the Toledo Automobile Dealers Association, Hepler should know. He gets the feedback from dealers who experience the impact, especially with this past year's attendance being the second best in the 15 years the event has been at the Seagate Convention Center
"We don't get people coming out just for something to do," says Hepler. "They have a purpose. We find the show really kicks off the spring selling season and salespeople who work it right can get leads for the spring."
Indeed, Hepler says many dealers will put sales promotions in place for deals made as a result of the show (although direct sales aren't permitted at the event).
"Salespeople will have their business cards and they'll be setting up appointments, getting people excited and getting them back to the dealerships where they make the deal," says Hepler.
While Hepler isn't a fan of attractions that would take potential customers' attention away from the vehicles themselves ("we don't want to take away from the purpose of the show"), they did, successfully, it turns out, experiment with live entertainment in the form of background music performed by jazz as well as country and western groups.
"It was very well received" says Hepler. "As long as it's not the kind that people will crowd around and watch, it won't be a distraction."
As is the case with many other shows around the country, Toledo this year introduced a gala preview night, specifically set up to benefit two charities: the Salvation Army and the Juvenile Diabetes Association. In addition, the dealer association funded scholarship programs at both the local Owens Community College and Northwood University in Midland, Mich.
At the show itself, in addition to a number of concept cars, the Toledo event hosted an educational display by GM's Powertrain Division, where employees would tear down and reassemble a transmission. Hepler says the demonstration was very well received by crowds and tech enthusiasts.
Yet another feature was a NASCAR "mini track" that had kids racing models by remote control, all for a donation to the Make-A-Wish Foundation.
It's a father and son affair at the Greater Toledo Auto Show, with Clay Hepler Sr. leading and Clay Hepler Jr. assisting.


Hepler, whose son Clay Jr. now serves as his assistant, says media coverage provided a big boost for attendance, with a 30-minute live opening night broadcast by
Channel 13
, the local ABC affiliate, doing just what was expected.
Indeed, the only challenges Toledo generally faces is weather; Hepler still recalls a nice storm that had broadcasters telling people to stay off the roads. "That just killed us on the weekend."
In the meantime, Hepler says he'll continue looking for ways to improve the sold-out event, including utilization of the lobby area. "That would give us more space that we dearly need."


Profile: Greater Toledo Auto Show
Date:
Feb. 11-15, 2004

Place:
Seagate Convention Center

Exhibit Space:
75,000 square feet

Tickets:
Adults $5, Seniors $3, Children under 12 free

Show Hours:
Thurs. 3 pm-9 pm; Fri.-Sat. noon-9 pm; Sun. 11 am-5 pm

Show Contact:
Clay Hepler, ATAE
Executive Vice President, Toledo Automobile Dealers Association
TADA001@msn.com, 419.843.2611

Discount Coupons:
Half off discount coupons available at show and through dealers.
---
People are returning to downtown Richmond
Downtown Richmond is coming back. And the
Virginia Motor Trend International Auto Show
is contributing to the resurgence.
Members of the Central Virginia Mustang Club had a superb display of some 30 vehicles on display at the Virginia Motor Trend International Auto Show.


"Downtown Richmond wasn't always considered a destination point," says
Michael Allen
, executive director of the Greater Richmond New Car Dealers Association. "This was the second year in the
Richmond Convention Center
venue and we're seeing that people are more comfortable coming downtown."
The auto show experienced a near 10 percent increase in attendance, says Allen, who runs the show on behalf of the Greater Richmond group as well as the Virginia Automobile Dealers Association, under the leadership of president Don Hall.
Allen credits an improving economy, as well as the change in character of downtown Richmond.
"It's a wonderful venue," says Allen, referring to a hall that offers 180,000 square feet for the show. Even so, the new center gives the show nearly triple its previous space.
But is "enough" ever enough? Not in the case of the Virginia show.
Marine sergeant R. Lee Ermey was another crowd favorite.


"We took 10,000 square feet of the lobby to fit everything in," says Allen.
While certainly the vehicles took front and center stage, including the well-known 40th anniversary of the Mustang, with a 30-vehicle display by the Central Virginia Mustang Club, there were a number of family friendly attractions as well, such as "Rug Rats" character Tommy Pickles. (Kids Day, March 7, admitted children under 12 free when accompanied by a paying adult).
Visitors stood in line up to 90 minutes to have their picture taken with R. Lee Ermey, the retired Marine Corps sergeant of "Full Metal Jacket" and the History Channel's "Mail Call" fame.
Other vehicle-related displays included a collection of the latest Ferrari and Maseratis and several high-performance street cars set up for road racing, courtesy of the Virginia Motor Sport Club.
Kids always love Rug Rats characters (like Tommy Pickles).


There was also a unique collection of top-model tuner cars on display. The display, courtesy of
Vivid Images
, highlights what has become a $1.5 billion industry.
In addition, the show featured a preview party, well attended and guest hosted by Virginia Attorney General Jerry Kilgore.
In the meantime, Michael Allen says organizers are busy planning for next year's event, working on bringing in more concept vehicles and "unique" offerings that will continue to catch the interest of a growing number of attendees.


Profile: Virginia Motor Trend International Auto Show
Date:
Mar. 4-6, 2004

Place:
Greater Richmond Convention Center

Exhibit Space:
190,000 square feet

Tickets:
Adults, $8; Seniors, $5; Children under 12, $3

Show Hours:
Fri.-Sat., 10 am-10 pm; Sun., 10 am-6 pms

Show Contacts:
Michael Allen, ATAE
Executive Director, Greater Richmond New Car Dealers Association
mallen@vada.com, 804.545.3012

Don Hall, ATAE
President, Virginia Automobile Dealers Association
dhall@vada.com, 804.359.3578, ext. 3004

Show Website:
www.motortrendautoshows.com/richmond
---
Credits/Contacts:
Automotive Trade Association Executives
8400 Westpark Drive
McLean, VA 22102
703.821.7072
703.556.8581 - fax
www.info@atae.info
Don McNeeley, ATAE President
donmc@cjnetworks.com
Jennifer Lindsey, ATAE Executive Director
jlindsey@nada.org
Rod Alberts, ASNA Chairman
ralberts@dada.org
The Auto Show Report
Joe Rohatynski, editor
joe@joepr.com
J.D. Booth, staff reporter
jd@jdbooth.com
Elizabeth Katz, staff reporter
llpa@sbcglobal.net

---
Auto Shows of North America Show Directory
Albany
Albany Auto Show

11/3/2017 - 11/5/2017
Albuquerque
New Mexico International Auto Show
4/13/2018 - 4/15/2018
Anaheim
Orange County Auto Show
10/4/2018 - 10/7/2018
Atlanta
Atlanta International Auto Show
3/21/2018 - 3/25/2018
Austin
Austin Auto Show
4/20/2018 - 4/22/2018
Baltimore
Motor Trend International Auto Show, Baltimore
2/8/2018 - 2/11/2018
Bedford, NH
New Hampshire Auto Show
11/18/2016 - 11/20/2016
Bethlehem, PA
Lehigh Valley Auto Show
3/22/2018 - 3/25/2018
Birmingham
Alabama International Auto Show
4/12/2018 - 4/15/2018
Boston
New England International Auto Show
1/11/2018 - 1/15/2018
Buffalo
Buffalo Auto Show
2/8/2018 - 2/11/2018
Calgary
Calgary International Auto & Truck Show
3/14/2018 - 3/18/2018
Charleston
West Virginia International Auto Show
1/19/2018 - 1/21/2018
Charlotte
Charlotte International Auto Show
11/2/2017 - 11/5/2017
Chicago
Chicago Auto Show
2/10/2018 - 2/19/2018
Cincinnati
Cincinnati Auto Expo
2/7/2018 - 2/11/2018
Cleveland
Cleveland Auto Show
2/23/2018 - 3/4/2018
Columbus
Columbus International Auto Show
3/15/2018 - 3/18/2018
Dallas
DFW Auto Show in Dallas
2/14/2018 - 2/18/2018
Dayton
Dayton Auto Show
2/22/2018 - 2/25/2018
Denver
Denver Auto Show
4/4/2018 - 4/8/2018
Detroit
North American International Auto Show
1/20/2018 - 1/28/2018
Edmonton
Edmonton Motor Show
4/12/2018 - 4/15/2018
Fort Worth
DFW Auto Show in Fort Worth
12/7/2017 - 12/10/2017
Greenville
South Carolina International Auto Show
1/12/2018 - 1/14/2018
Harrisburg, PA
Pennsylvania Auto Show
1/25/2018 - 1/28/2018
Hartford
Connecticut International Auto Show
11/17/2017 - 11/19/2017
Honolulu
First Hawaiian International Auto Show
4/13/2018 - 4/15/2018
Houston
Houston Auto Show
4/5/2017 - 4/9/2017
Indianapolis
Indianapolis Auto Show
12/26/2017 - 1/1/2018
Kansas City
Kansas City International Auto Show
2/28/2018 - 3/4/2018
Las Vegas
Las Vegas International Auto Show
11/24/2017 - 11/26/2017
Los Angeles
Los Angeles Auto Show
12/1/2017 - 12/10/2017
Louisville
Louisville Auto Show
1/19/2018 - 1/21/2018
Miami
Miami International Auto Show
9/9/2017 - 9/17/2017
Milwaukee
Greater Milwaukee International Auto Show
2/24/2018 - 3/4/2018
Minneapolis/St. Paul
Twin Cities Auto Show
3/10/2018 - 3/18/2018
Montreal
Montreal International Auto Show
1/19/2018 - 1/28/2018
New Orleans
Greater New Orleans International Auto Show
3/16/2018 - 3/18/2018
New York
New York International Auto Show
3/30/2018 - 4/8/2018
Oklahoma City
Oklahoma City International Auto Show
3/9/2018 - 3/11/2018
Oklahoma City
Oklahoma State Fair Auto Show
9/14/2017 - 9/24/2017
Omaha
Midlands International Auto Show
1/18/2018 - 1/21/2018
Orlando
Central Florida International Auto Show
11/23/2017 - 11/26/2017
Philadelphia
Philadelphia International Auto Show
1/27/2018 - 2/4/2018
Phoenix
Arizona International Auto Show
11/23/2017 - 11/26/2017
Pittsburgh
Pittsburgh International Auto Show
2/17/2017 - 2/20/2017
Portland
Portland International Auto Show
1/25/2018 - 1/28/2018
Providence
Northeast International Auto Show
2/9/2018 - 2/11/2018
Richmond
Virginia Motor Trend International Auto Show
2/16/2018 - 2/18/2018
Rochester
Rochester International Auto Show
3/1/2018 - 3/4/2018
Sacramento
Sacramento International Auto Show
10/20/2017 - 10/22/2017
Saint Louis
Saint Louis International Auto Show
1/25/2018 - 1/28/2018
Salt Lake City
Utah International Auto Expo
1/12/2018 - 1/15/2018
San Antonio
San Antonio Auto & Truck Show
11/9/2017 - 11/12/2017
San Diego
San Diego International Auto Show
12/28/2017 - 1/1/2018
San Jose
Silicon Valley International Auto Show
1/4/2018 - 1/7/2018
Seattle
Seattle International Auto Show
11/9/2017 - 11/12/2017
Spokane
Spokane International Auto Show
2/9/2018 - 2/11/2018
Tampa
Tampa Bay International Auto Show
11/17/2017 - 11/19/2017
Toledo
Greater Toledo Auto Show
2/8/2018 - 2/11/2018
Toronto
Canadian International Auto Show
2/16/2018 - 2/25/2018
Tulsa
Tulsa Auto Show
4/13/2018 - 4/15/2018
Vancouver
Vancouver International Auto Show
3/28/2018 - 4/1/2018
Virginia Beach
Hampton Roads International Auto Show
1/12/2018 - 1/14/2018
Washington
Washington Auto Show
1/26/2018 - 2/4/2018