Contents:
Industry News
---
Auto Shows of North America (ASNA) is a committee of Automotive Trade Association Executives. The Mission of ASNA is to be the industry resource for auto show information and education, and to provide a network for communication between show executives, manufacturers, other industry affiliates and media.
---
ASNA Summer Meeting: "It Bangs! It Bangs!"
With more manufacturers, more auto show organizers, and more positive comments on the value of the event than ever before, it's a sure bet that calendars are already being booked for the next Auto Shows of North America meetings, this time in New Orleans as part of the NADA Annual Convention, Jan. 29-Feb. 1, 2005.
ATAE President Don McNeely and ASNA Chairman Rod Alberts prepare for ASNA's "American Auto Show Idol Contest."


But even as excitement continues to build for the future of networking in the world of auto shows, those who attended the ASNA summer meeting (July 13 at
The Broadmoor Resort and Spa
in Colorado Springs) came away with a strong sense of value.
Whether it was through the rotating roundtable format (10 people at each of 10 tables, discussing key issues with manufacturer representatives), the American Auto Show Idol contest that resulted in the sharing of some very bright ideas among attendees, or the keynote message from Jason Vines, Chrysler's vice president of communications, the effect was the same: a remarkable exchange of information interspersed and packaged in an unforgettable format.
ASNA partners, including Palmer & Cay's Tim Cunnane (who presented valuable insight into auto show risk management and insurance issues), and Curt Van Loon (whose company, Adstrategies, has a unique real-time survey offering) were on hand to help with tangible ways of improving an already outstanding (and getting better) series of auto shows.
Indeed, some 50 of the total 65 members of ASNA were on hand to take part in the summer meeting.
Certainly observers would agree that the three-hour roundtable discussions provided some of the day's most comprehensive dialogue opportunities. While some might be asking who benefited more--auto show executives or manufacturers—-the answer was clear: everyone.
One effusive participant was Bill Abraham, who, as executive director of the Greater Minneapolis and St. Paul International Auto Show, says being able to visit one-on-one with manufacturers was a valuable addition to the meetings. "We were able to ask questions and get answers quickly," says Abraham. "And decisions were made on the spot. I hope they continue the format."
Kathy Faith, national manager, corporate promotions at Hyundai Motor America, agreed.
"The round tables were priceless," says Faith, who took advantage of the format to introduce a new shows and exhibits team at Hyundai, the fourth largest import automotive manufacturer in the U.S.
"This gave us an opportunity to introduce the new team to each of the shows," she says, adding that the format helped, especially given this was her first time participating at the meeting.
ATAE Executive Director Jennifer Lindsey says the event offers a unique chance for those in the auto show community to connect.
"As far as I know the ASNA summer meeting is the only place where almost all auto show executives, and their show managers, as well as vendors, suppliers, and manufacturers, come together to discuss ideas and strategies," says Lindsey. "Shows of all sizes and markets benefit from the experience that is shared, and through the camaraderie of the meeting, executives solidify relationships that they can rely on throughout the year."
NEW BREED OF BIKER? While Jason Vines of Chrysler made an unconventional entrance (on a Jeep mountain bike) he had key take-aways for auto show executives.


At lunch, Chrysler's Jason Vines gave attendees yet another reason to sit up and take notice, especially with his memorable entrance on a Jeep brand mountain bike. We expect no less from a former standup comedian and someone who is arguably one of the most influential among auto industry execs (remember, Jason has sat in some of the hottest PR seats in the industry).
Vines, who spoke of the importance of building relationships between manufacturers and auto show organizers, said he hoped attendees got as much out of the presentation as he got from the ASAN summer meeting.
Count on it, Jason.
He also made an interesting point: more PR practitioners should make a point of attending the meetings as a way of connecting (and learning) from auto show execs who have, after all, a unique perspective on the industry, right from the show floor.
And then there was the American Auto Show Idol contest.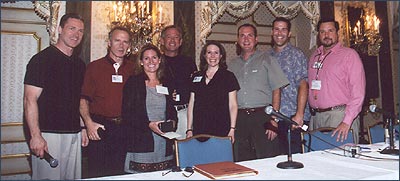 STAR BOUND? Well, maybe not. But the American Auto Show Idol participants did impress attendees with their winning ideas.


Sure, Sacramento's
Stacey Castle
may have had her audience "plants" out there. But she did, along with Boston's
David Williams
, Washington's
Gerry Murphy
, and
Mike Gempp
of Philadelphia, take on an esteemed panel of judges, including ATAE president
Don McNeely
, ATAE executive director
Jennifer Lindsey
(doing a believable imitation of Paula Abdul), and, yes, Jason ("That Thing Got a Hemi?") Vines.
Charlie Gill does his best William Hung impersonation.


When
Rod Alberts
and team conceived the event as a great way to generate "best and brightest" ideas, it's doubtful they knew that L.A.'s
Charlie Gill
happens to be one of the nation's best
William Hung
impersonators (and was intent on stealing the show). Dressed in shorts and black knee-high socks (like my Dad used to wear), Gill belted out a complete rendition of the once-famous (thanks to
Ricky Martin
) and now-infamous (thanks to William Hung) "She Bangs, She Bangs."
And the judges' reaction? Don McNeely summed it up for everyone: "You have absolutely no talent."
Even so, the American Auto Show Idol event brought forward some "tried and true" promotional ideas that we're bound to see popping up throughout the country.
It's a winner, indeed.
Still, everyone connected with ASNA is a winner-in-waiting as even now plans are being made for the next get-together, dovetailing with the NADA Annual Convention in New Orleans.
From left, Don McNeely, ATAE chair; Jennifer Lindsey, ATAE executive director; and keynote speaker Jason Vines of Chrysler, gave thumbs up/thumbs down (and lots of laughs) in the American Auto Show Idol contest.


The expectation is to see even more of those connected with the world of auto shows experiencing the benefits of ASNA participation.
Still need convincing? Those who haven't yet taken part could learn from Bill Ames, GM's director, auto shows and exhibits, who going into the ASNA meeting was already a "convert" to the concept.
"The ASNA Summer Meeting is critically important to us at General Motors," Ames said. "It gives us a venue to communicate strategic plans to a large number of auto show promoters all at once. This opportunity to deliver a unified message is extremely efficient and effective."


---
NAIAS, NBC Sports agree to five year deal

The
North American International Auto Show
(NAIAS) and
NBC Sports
have agreed to a five year broadcast deal, which will lead to unprecedented global exposure for an auto show. NBC Sports will air a live, two hour broadcast special from the
Cobo Center
show floor on Jan. 23, 2005.
"It's the first time this has been done," says NBC Sports spokesman Tom Caraccioli, referring to the length and national nature of the broadcast.
In recent years, the NAIAS has been covered in splashy, entertainment-oriented ways by television shows like the syndicated "Entertainment Tonight," ABC's "Good Morning, America" and NBC's "Today" as well as by cable networks like ESPN.
Show organizers began meeting with NBC executives in April, according to Rod Alberts, NAIAS executive director, who leads the show into its 18th year as one of the top international motor shows in the world. He says a deal was eventually put together that includes a five-year commitment to do the specials.
NBC is also the official television broadcaster of the 2004 Summer Olympics.
The new auto show's official local broadcast partner for 2005 will be WDIV-TV (Channel 4), Detroit's NBC affiliate. Local ABC affiliate WXYZ-TV (Channel 7) had been the official NAIAS broadcast partners since 1997.
Alberts says the negotiations to team up with NBC Sports were separate from those conducted to review the auto show local partnership.


---
Show dates now listed in the "Auto Show Report"
In an effort to continually improve communications among the ASNA community, we've added show dates to the listings found at the end of this (and every) Auto Show Report newsletter.
The listings, along with archives of newsletters and other ASNA-related information, will also appear in the ASNA Web site, currently under development.


---
Exhibit Works family comes together to honor a friend
Anyone who questions the community aspects of life surrounding those who work in the auto show industry has only to witness the events surrounding the passing of Dan Sexton, 38, a member of the
Exhibit Works
family.
One year after succumbing to brain cancer, Sexton's former colleagues have organized a golf event in his memory.
Lee and Dan Sexton


The August 25 outing, to be held at the
St. Johns Golf and Conference
in Plymouth, Mich., is intended not only to honor the memory of Sexton, but to help the family he left behind—-a wife, Lee Sexton, and their three young daughters (Samantha, 7; Abigail, 5; and Elizabeth, 2).
Dan Sexton's courageous battle with brain cancer began shortly after joining Exhibit Works, where, from December 1, 1998 until his passing, he served as project manager on several accounts, including Porsche Cars North America, Volkswagen of America and Dana Corporation.
"Dan was a loyal and dedicated member of the Exhibit Works team," says Kevin Pritchard, Exhibit Works vice president and a colleague of Sexton. "He was never afraid to go the extra mile to insure the success of his projects even while dealing with his personal battle with cancer."
Event organizers have created a number of sponsorship opportunities for those wishing to support this worthy cause. They include corporate hole sponsorships (at $1,500), and personal sponsorships ($150). Individuals can take part in the event at a cost of $150, which includes golf and dinner for one. Corporate sponsorships at a cost of $600, which includes golf and dinner for four, are also available.
For more information, or to make a donation that will directly benefit Dan Sexton's family, please contact Bill Ciccone, 734.367.8399.


---
Clear!Blue: Engaging ideas emerge from red hot agency
As in "out of the …"
For Mike Rosenau, one of the bright minds behind the idea-rich Clear!Blue communication and special events firm (and ASNA partner), the story behind the agency's name is one that underscores the very nature of the creative process.
"No one ever walked into a creative session with the idea already written out," says Rosenau, Clear!Blue's chief strategy officer. "When you have a bunch of people talking about what is possible, that's when the ideas begin to flow."
Indeed, the expression of what Clear!Blue would do for the world of communications and special events was recorded on, yes, a very real napkin—-now framed and on display in the firm's eclectic Birmingham offices, a loft-like creative hub that Rosenau says is now part of the Clear!Blue brand.
But it's Rosenau and the company's exclusive auto show client—-DaimlerChrysler—-that really benefits from the Clear!Blue difference.
"We believe anybody can get your attention," says Rosenau. "And auto shows are full of people who claim to get your attention. But it's something well beyond that to capture someone's imagination. Jumping out of the closet and saying 'boo' doesn't do it."
Mike Rosenau


What does "do it" seems to be not so much a "how" but a persistent combination of idea flow and genius, which Rosenau says comes in the form of people like
Larry Parrott
, Clear!Blue's chief creative officer.
Rosenau adds the names Bill Abele and Todd Smith to the list of Clear!Blue "originals" that came together to form the company in September 2000.
In nearly four years of growth, from six people to nearly 50, the Clear!Blue team has done great things for virtually all of the DaimlerChrysler brands, including Jeep, Mercedes Benz and Chrysler.
And recently, the Clear!Blue team grew by one with the addition of legendary PR expert Steve Harris as the company's chief communications officer. Formerly the head of communications for General Motors and, before that, Chrysler, Harris brings a wealth of client-side knowledge and his own flair for dramatic press events. It was under Harris's watch (at the 1992 North American International Auto Show) that the client approved the driving of a Jeep Grand Cherokee through the glass entrance of Cobo Center, in the process ushering in the era of grand press events at auto show venues.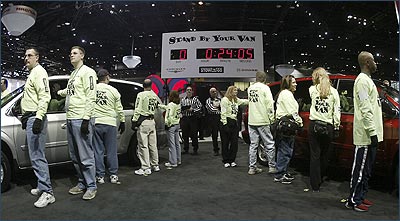 All hands on van! A space-friendly Clear!Blue implementation serves to draw lots of public (and media) attention.


But not only does Rosenau want to do more, he says the willingness of Clear!Blue's client to gain even more consumer interest and media coverage is good news for the multitude of auto shows that make up the ASNA organization.
"Our clients are looking for opportunities—repeatable opportunities—to connect with local media through events that draw the attention of consumers," says Rosenau. "And we believe we can help make those shows exceptional without spending major auto show dollars."
An example Rosenau proffers is in Philadelphia, where media flocked to a contest involving a new feature on the Chrysler minivan—-the hideaway seat. How fast could someone stow them? The idea was both simple and compelling.
And effective.
"It was one of the most engaging things going," says Rosenau. "It grabbed their attention and at the same time it was relevant to the consumer."
Creative thinking also works in situations where auto shows are up against space constraints, a situation that's increasingly common.
Even those constraints can bring on creative juices, as was the case with an idea presented at Chicago: a simple contest to keep a consumer's hands on a vehicle (in this case the Chrysler minivan) for as long as possible.
"We didn't invent the idea," admits Rosenau. "But putting it to work in that situation did exactly what we hoped—-it drew attention to the vehicle in the local market."
The good news is that Clear!Blue's Chrysler client has open ears to the ideas Rosenau and his team bring forward, even if it means asking the client--in this case, Jason Vines, Chrysler's VP of Communications--to ride a mountain bike through a crowded room of auto show organizers at the ASNA summer meeting.
Says Parrott, "We formed Clear!Blue to do business better, to get results that exceed our clients' expectations and to have fun doing so. Fun is important at Clear!Blue. In fact it's one of our four core values along with intelligence, integrity and imagination. And so far it seems to be working. We're having fun and so, too, are our clients and our audiences!"
For auto show organizers, the combination of a client that's hungry for new ways to reach consumers and an agency able to deliver on that appetite should make for an interesting flow of ideas.
Which suits Mike Rosenau and the Clear!Blue team just fine.
"It's our job to see that media walk away from a press event with a special feeling and a better understanding of what our client is able to offer. And auto show organizers have a great opportunity to be part of that."


---
NewsWire One: Former newsman finds new ways to help media
If the public media is a window into the world of a local auto show, it's a sure bet that people like ASNA partner
NewsWire One
are key to keeping the glass squeaky clean for the benefit of information-hungry journalists.
But Gary Glenn, president and CEO, says his firm is doing one better than simply keeping the windows clean. It's essentially helping those who use the auto show format expand their presence through the 200,000 individual journalists in the NewsWire One database.
"We keep that list updated and have it sorted by 78 different beats," says Glenn, a former broadcast journalist and co-founder of NewsWire One.
But the essential difference in NewsWire One's distribution is the "what" and "how" of information—-especially important in a world that's gone way beyond the traditional text-only flow of characters common to news release distribution.
NewsWire One's key attribute is the bundling of all that—-plus high-resolution graphics and high-quality video and audio.
While the possibilities for information distribution are nearly endless, says Glenn, one example brings the NewsWire One proposition to life.
"We did the Chicago Auto Show after the show decided it needed to do something different when it came to news release distribution," says Glenn. "With the NewsWire One solution, instead of having just a plain text release on their news site, they were able to stream all of the news conferences, both live and archived."
The benefit to journalists visiting the custom site was clear and compelling.
"Journalists went back again and again, because the information was very handy and accessible," says Glenn, pointing out that the NewsWire One service includes being able to measure the use of the site. "Even journalists who were able to attend the news conferences live found the site very useful in reviewing what had happened and what was said. That often translates into more content being included in stories."
The NewsWire One model means customers include both the shows (such as the Chicago example) and exhibitors who are looking for a media-friendly outlet for the information.
"We did releases for Bridgestone, Hyundai, Kia, and Ford," says Glenn. "And all the information was related to things they'd done at the show."
NewsWire One's Gary Glenn (left) and ASNA Co-Chair Todd Leutheuser discuss auto show press release distribution.


Glenn took the opportunity at the recent Auto Shows of North America summer meeting to introduce a
comprehensive package
that organizers can introduce to smaller auto show events. Click
here
to see the presentation.
"We believe it's important to make this technology available," says Glenn. "And for a moderate price we can offer a customized newsroom that reflects the look and feel of the show."
The NewsWire One difference, Glenn says, is becoming increasingly important in a world where "getting noticed" has become even more of a challenge.
"Our belief is that by giving journalists a wide range of information and by having it available in one place, the results will be very positive for show organizers and exhibitors alike."


---
Columbus: Show promotions create positive PR
Car of your dreams? Or car in a cube? Those who attended this season's
Columbus Auto Show
had both features to catch their fancy, one being a $25,000 prize redeemable towards the purchase of a new vehicle.
In this case, an Acura RSX was the choice of the winning entrant, who successfully opened the prize chest with the right key from among 10 finalists.
"That certainly generated a lot of excitement for us," says Melissa Dehl, show manager.
The "mystery car in a cube" (crushed to a three foot by three foot cube) earned the successful sleuth a 65 inch Sony high definition TV after he correctly guessed it was a 1995 Pontiac Grand Am and came within 500 miles of its mileage.
ALL SMILES: This young man just won himself a Toyota Solara in an auto show giveaway.


In addition, the Central Ohio Toyota Dealers gave away a 2004 Toyota Solara convertible at the show, won by a very happy college student.
Those promotional efforts, Dehl says, helped spur attendance that had suffered in recent times having coincided with the opening of the Iraq War campaign.
"We're up about 40 percent over the previous two years," notes Dehl, clearly pleased with the results of the efforts to bring people once again to the Columbus Convention Center.
Running the contests took on a high-tech feature, with entries logged via an on-site computer system and finalist names drawn randomly.
"The entire event gave us a great deal of positive public relations and generated substantial media coverage," says Dehl. "It was a lot more interactive than it was in the past. And, today, more and more people are tech-savvy and look for Internet-based activities and promotions."
Tuners like this one continue to drive auto show interest.


A significant draw, besides the popular contests, included a tuner display, one of the trend-setting features at many other shows as well. "It's something we'll definitely be doing next year," says Dehl.
A charity preview of the auto show raised $35,000 for the Childhood League Center, an organization that helps those with developmental delays prepare for school.
Dehl says the auto show was very much a "family friendly" event, with interactive displays for children, a 70-foot obstacle course featuring inflatables, plus visits from the Columbus Zoo, which brought in a number of animals for the show.
"We also had a good showing for the sports enthusiasts," says Dehl. Those included players from the NHL Blue Jackets and appearances by players from the Columbus Destroyers, the local arena football team, plus the AA baseball and soccer teams.
Still, as Dehl says, the added features simply added to the event without taking away the emphasis on the vehicles themselves.
"This is what people come for," she says. "And we don't disappoint."


Profile: Columbus International Auto Show
Date:
Mar. 12-21, 2004

Place:
Columbus Convention Center

Exhibit Space:
300,000 square feet

Tickets:
Adults $8, Children (12 and under) free when accompanied by paid adult

Show Hours:
Fri., Mar. 12: 7 pm-10 pm; Sat. Mar. 13: 10 am-10 pm; Sun., Mar. 14: 11 am-7 pm; Mon., Mar. 15 to Thurs., Mar. 18: 3 pm-9 pm; Fri., Mar. 19: noon-10 pm; Sat., Mar. 20: 10 am-10 pm; Sun., Mar. 21: 11 am-5 pm.

Show Contact:
Melissa Dehl, show manager
mdehl@oada.com, 614.799.2232

Show Website:
www.columbusautoshow.com

Discount Coupons:
$1 off coupons available at participating new car dealerships and on Web site (www.columbusautoshow.com).
---
Dayton: With space at a premium, cars are the focus
It's about the vehicles
With just 60,000 square feet of exhibit space, the Dayton Auto Show "gets to the point," says Mike McCall, new executive director of the Dayton Area Auto Dealers Association (DAADA).
Organized by Hart Productions (the company also handles the Cincinnati show), the Dayton has had a resurgence in attendance in the order of 22 percent, notes McGill, who is presiding over his first Dayton show as executive director (he previously launched and managed a software development firm in Dayton, taking the helm last summer when longtime DAADA Executive Director Jimm Horvath retired after 18 years on the job.)
Mike McCall,
new Dayton Auto Show manager

"We're very happy with how things have turned around," says McCall, remembering the impact the start of the Iraq War had on attendance. The show and the conflict began the same day.
This year's event began with a notable departure from previous years' single charity donation resulting from the show's preview event. "We had such a good turnout that we were able to give a nice contribution to three different charities this year," says McCall.
At the auto show itself, McCall says crowds got an opportunity to see much of what the industry has to offer.
"We had 132 cars jammed in there," says McCall.
Highlights included the Solstice concept car and the Cadillac SLR along with the Chrysler 300 and the Jeep Commander concept.
Ford's GT was a great crowd pleaser


But McCall says the Ford GT in particular was a huge crowd pleaser.
"It really was an attention getter," he says.
Aside from the vehicle highlights, sports enthusiasts were treated to preview event appearances by Cleveland Cavaliers' general manager Jim Paxson and star forward LeBron James, both of whom helped generate crowd excitement.
From a marketing perspective, McCall says the ongoing positive relationship with media partners, including the Dayton Daily News, and its production of a special section highlighting the show, works well for the event, and for the newspaper itself.
"It generates a lot of advertising from members and associates," says McCall. "But once people get into the show, it's about showcasing what's available and we do a good job of that."


Profile: Dayton Auto Show
Date:
March 25-April 3, 2004

Place:
Dayton Convention Center

Exhibit Space:
60,000 square feet

Tickets:
Adults $6, Children (under 12) free

Show Hours:
Saturdays, 10 am-10 pm; Sundays, 10 am-7 pm; Mon-Fri (except Wed.), 4 pm-10 pm. Wed. (Seniors' Day), 10 am-10 pm.

Show Contact:
Mike McCall, ATAE
Executive Vice President, Dayton Area Automobile Dealers Association
mike.mccall@dada.org, 937.222.4911

Show Website:
www.hartproductions.com/daytonauto

Discount Coupons:
$4 off available at Kroger stores
---
Minneapolis/St. Paul: Targeting all ages
A Dodge Viper simulator gives showgoers a shot of adrenaline at the Greater Minneapolis and St. Paul International Auto Show.


As executive director of the Greater Metropolitan Auto Dealers Association,
Bill Abraham
says getting folks at both ends (and in the middle) of the age spectrum is not only desirable but possible.
And he's doing it—-with innovative marketing programs that involve Minnesota schools and an ever-popular Seniors' Day right in the middle of the annual Greater Minneapolis and St. Paul International Auto Show.
"These are our future customers," says Abraham, referring to students who flock by the busload to the show as a result of a very deliberate invitation by auto show organizers to schools throughout the state. "We market the show as a good field trip opportunity and it's been very successful for us."
Also of note for its ability to generate traffic to the Minneapolis Convention Center and its half million square feet of exhibit space is the Seniors' Day event that features a $5 admission price, discounted from $9. "We cater to seniors specifically on that day and it's a very popular part of our show."
Abraham says media in the area continue to support the auto show, which is the largest single indoor ticketed event in the state. A notable example of that marketing support came in the form of a daily giveaway--$5,000 towards the purchase of a new vehicle from a dealer association member.
Crowds abound at what is the state's largest indoor ticketed event--the auto show.


"Over the nine days of the show that amounts to a great promotional draw," says Abraham, noting that in the 10 years the contest has been running, not one winner has failed to redeem their $5,000 off certificate.
The show itself, which features its share of concepts as well as production vehicles, has a deserved reputation among dealers for jumpstarting the spring selling season. "We know for a fact, because our dealers tell us, the weeks following the show are much busier for them," says Abraham.
Show organizers work hard to make that possible, investing significantly in a marketing program that includes all media--TV, radio, newspapers and outdoor.
Notably, that ongoing positive relationship with newspapers includes a special section previewing the auto show. Dealers, Abraham says, are very supportive of the effort as a way of bringing attendees to the event.
Part of the success of the show spills over to children of dealership employees with the association offering $100,000 in college scholarships every year.
And, as Abraham adds, the show itself continues to command the attention of manufacturers who want more space. "We have a waiting list of existing exhibitors who'd like to expand their presence."


---
New Orleans: Outgrowing the Superdome
Jeffrie Schultis Fricke
knew she was going to have a new set of challenges driving attendance to this year's New Orleans International Auto Show, what with the city's St. Patrick's Day Parade and a popular arena football game in the same one block area of town.
The show manager, and assistant executive director of the Greater New Orleans New Car Dealers Association, set out do something about it--and saw a bump up in attendance as a result.
"First of all, we set out to do much more with radio," says Fricke, referring to an expanded contract with the Entercom group of radio stations in the area. "That gave us a much larger advertising presence than we've had in the past."
But Fricke, who continues to work alongside her father, Bob Schultis, hasn't overlooked other media.
"We also partnered with the Times-Picayune newspaper and its nola.com Website," says Fricke. "That involvement, which included an enormous amount of Internet advertising, included a $10,000 prize towards the purchase of a new car."
Show goers flocked to see the latest and greatest vehicles in New Orleans.
That consistent, visible Internet presence in the month leading up to the show produced strong interest, says Fricke, pointing out the results nicely coincided with growing exhibitor interest, in particular from Nissan and Toyota. Both manufacturers took 20 percent more space, becoming in the process the largest two exhibitors at the New Orleans show.
With a booked solid wall-to-wall presence in the Louisiana Superdome (the published floor plan measures 408 feet by 408 feet), Fricke says the auto show focuses more on the vehicles than having so-called kid's events to attract visitors.
Even so, the dealer organization was able to showcase its involvement in various programs designed to attract students into automotive-related educational programs.
"We need technicians," acknowledges Fricke. "Badly."
By committing auxiliary space in the lobby of the Superdome, where the school system was able to showcase what it's doing to update its technical training capability, everyone benefits.
"We had a lot of very positive comments from parents who didn't know what the schools were doing in this area," says Fricke. "They had no idea."
Still, auto show attendees had ample opportunity to see the latest and greatest among concept vehicles, even in an environment that simply has no room to expand beyond its current configuration. It's a situation that is often heard around other areas of the country, particularly as events of this nature keep producing results for more and more exhibitors.
"We've really outgrown the Superdome," says Fricke. "My big problem is where I'm going to put everyone."


Profile: Greater New Orleans International Auto Show
Date:
March 11-13, 2004

Place:
Louisiana Superdome

Exhibit Space:
166,000 square feet

Tickets:
Adults $6, Seniors $3, Children (6-12) $3, under 6 free

Show Hours:
Thurs.-Fri. 1 pm-10 pm; Sat. 10 am-10 pm.

Show Contact:
Jeffrie Schultis Fricke, ATAE
Assistant Executive Director, Greater New Orleans New Car Dealers Association
schultis@aol.com, 504.831.8863

Show Website:
www.neworleansauto.com/
---
Auto Shows of North America Show Directory
Albany
Albany Auto Show

11/3/2017 - 11/5/2017
Albuquerque
New Mexico International Auto Show
4/13/2018 - 4/15/2018
Anaheim
Orange County Auto Show
10/4/2018 - 10/7/2018
Atlanta
Atlanta International Auto Show
3/21/2018 - 3/25/2018
Austin
Austin Auto Show
4/20/2018 - 4/22/2018
Baltimore
Motor Trend International Auto Show, Baltimore
2/8/2018 - 2/11/2018
Bedford, NH
New Hampshire Auto Show
11/18/2016 - 11/20/2016
Bethlehem, PA
Lehigh Valley Auto Show
3/22/2018 - 3/25/2018
Birmingham
Alabama International Auto Show
4/12/2018 - 4/15/2018
Boston
New England International Auto Show
1/11/2018 - 1/15/2018
Buffalo
Buffalo Auto Show
2/8/2018 - 2/11/2018
Calgary
Calgary International Auto & Truck Show
3/14/2018 - 3/18/2018
Charleston
West Virginia International Auto Show
1/19/2018 - 1/21/2018
Charlotte
Charlotte International Auto Show
11/2/2017 - 11/5/2017
Chicago
Chicago Auto Show
2/10/2018 - 2/19/2018
Cincinnati
Cincinnati Auto Expo
2/7/2018 - 2/11/2018
Cleveland
Cleveland Auto Show
2/23/2018 - 3/4/2018
Columbus
Columbus International Auto Show
3/15/2018 - 3/18/2018
Dallas
DFW Auto Show in Dallas
2/14/2018 - 2/18/2018
Dayton
Dayton Auto Show
2/22/2018 - 2/25/2018
Denver
Denver Auto Show
4/4/2018 - 4/8/2018
Detroit
North American International Auto Show
1/20/2018 - 1/28/2018
Edmonton
Edmonton Motor Show
4/12/2018 - 4/15/2018
Fort Worth
DFW Auto Show in Fort Worth
12/7/2017 - 12/10/2017
Greenville
South Carolina International Auto Show
1/12/2018 - 1/14/2018
Harrisburg, PA
Pennsylvania Auto Show
1/25/2018 - 1/28/2018
Hartford
Connecticut International Auto Show
11/17/2017 - 11/19/2017
Honolulu
First Hawaiian International Auto Show
4/13/2018 - 4/15/2018
Houston
Houston Auto Show
4/5/2017 - 4/9/2017
Indianapolis
Indianapolis Auto Show
12/26/2017 - 1/1/2018
Kansas City
Kansas City International Auto Show
2/28/2018 - 3/4/2018
Las Vegas
Las Vegas International Auto Show
11/24/2017 - 11/26/2017
Los Angeles
Los Angeles Auto Show
12/1/2017 - 12/10/2017
Louisville
Louisville Auto Show
1/19/2018 - 1/21/2018
Miami
Miami International Auto Show
9/9/2017 - 9/17/2017
Milwaukee
Greater Milwaukee International Auto Show
2/24/2018 - 3/4/2018
Minneapolis/St. Paul
Twin Cities Auto Show
3/10/2018 - 3/18/2018
Montreal
Montreal International Auto Show
1/19/2018 - 1/28/2018
New Orleans
Greater New Orleans International Auto Show
3/16/2018 - 3/18/2018
New York
New York International Auto Show
3/30/2018 - 4/8/2018
Oklahoma City
Oklahoma City International Auto Show
3/9/2018 - 3/11/2018
Oklahoma City
Oklahoma State Fair Auto Show
9/14/2017 - 9/24/2017
Omaha
Midlands International Auto Show
1/18/2018 - 1/21/2018
Orlando
Central Florida International Auto Show
11/23/2017 - 11/26/2017
Philadelphia
Philadelphia International Auto Show
1/27/2018 - 2/4/2018
Phoenix
Arizona International Auto Show
11/23/2017 - 11/26/2017
Pittsburgh
Pittsburgh International Auto Show
2/17/2017 - 2/20/2017
Portland
Portland International Auto Show
1/25/2018 - 1/28/2018
Providence
Northeast International Auto Show
2/9/2018 - 2/11/2018
Richmond
Virginia Motor Trend International Auto Show
2/16/2018 - 2/18/2018
Rochester
Rochester International Auto Show
3/1/2018 - 3/4/2018
Sacramento
Sacramento International Auto Show
10/20/2017 - 10/22/2017
Saint Louis
Saint Louis International Auto Show
1/25/2018 - 1/28/2018
Salt Lake City
Utah International Auto Expo
1/12/2018 - 1/15/2018
San Antonio
San Antonio Auto & Truck Show
11/9/2017 - 11/12/2017
San Diego
San Diego International Auto Show
12/28/2017 - 1/1/2018
San Jose
Silicon Valley International Auto Show
1/4/2018 - 1/7/2018
Seattle
Seattle International Auto Show
11/9/2017 - 11/12/2017
Spokane
Spokane International Auto Show
2/9/2018 - 2/11/2018
Tampa
Tampa Bay International Auto Show
11/17/2017 - 11/19/2017
Toledo
Greater Toledo Auto Show
2/8/2018 - 2/11/2018
Toronto
Canadian International Auto Show
2/16/2018 - 2/25/2018
Tulsa
Tulsa Auto Show
4/13/2018 - 4/15/2018
Vancouver
Vancouver International Auto Show
3/28/2018 - 4/1/2018
Virginia Beach
Hampton Roads International Auto Show
1/12/2018 - 1/14/2018
Washington
Washington Auto Show
1/26/2018 - 2/4/2018
---
Credits/Contacts:
Automotive Trade Association Executives
8400 Westpark Drive
McLean, VA 22102
703.821.7072
703.556.8581 - fax
www.info@atae.info
Don McNeeley, ATAE President
donmc@cjnetworks.com
Jennifer Lindsey, ATAE Executive Director
jlindsey@nada.org
Rod Alberts, ASNA Chairman
ralberts@dada.org
The Auto Show Report
Joe Rohatynski, editor
joe@joepr.com
J.D. Booth, staff reporter
jd@jdbooth.com
Elizabeth Katz, staff reporter
llpa@sbcglobal.net